Can CBD Boost Your Immune System?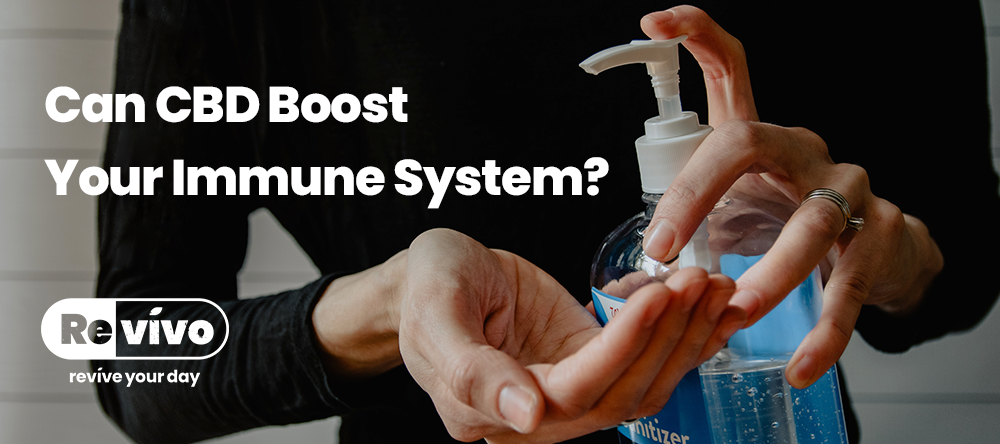 By now society has caught on, albeit it slowly, to the concept of "immune health". Doctors have long been recommending products such as greek yogurt and probiotics and even kombucha has gone mainstream. 
One of the newer products that people claim can boost your immune system is CBD oil.
Hemp as medicine
Industrial hemp such as cannabis sativa has been consumed for health and nutritional purposes for thousands of years. Many ancient civilizations – from the Chinese to the Greeks.
Fast forward to today and modern science has managed to isolate many of the compounds which make up the plant and a new wave of research points toward cannabinoids having an adaptive, immunomodulating effect.
What science says about CBD and the immune system?
Some studies suggest that cannabinoids like

THC

and

CBD

are immunosuppressant. However this relief is primarily experienced by medical cannabis users with autoimmune diseases and chronic inflammation, 

otherwise it regulates and corrects the immune system, bringing equilibrium to the organism.

Other studies have shown that regular cannabis use can increase white blood cell counts in immunodeficiency disorders such as

HIV

, suggesting an immune-boosting effect.
Scientists believe the Endocannabinoid System (ECS) may interact with all biological activity, including our immune system.
The immune system (in brief)
Every minute of every day, we are exposed to an endless stream of diseases, infections, viruses, and bacteria.
This never-ending barrage of nasties would inevitably kill us if it weren't for our built-in immune system that stops them in their tracks. 
The immune system is a host defense system comprising many biological structures and processes that happens within your body to protect you against disease, keeping you healthy and alive.
And the MVP of the immune system: white blood cells.
There are two types of white blood cells: lymphocytes and phagocytes.
Lymphocytes (B-cells and T-cells) destroy antigens (toxins or harmful foreign substances). They also help your body remember these foreign substances so that your immune system can respond quickly and appropriately when it detects another invasion.
Phagocytes play a role in absorbing and neutralising foreign invaders, preventing them from spreading and causing more damage.
In addition to protecting your body against diseases, infections, bacteria and viruses, your immune system is responsible for detecting and eliminating cells that aren't working properly.
Once found, the immune system initiates apoptosis, or cell death, so that the defective cells do not multiply and form tumours - which is why so much research is done into CBD and cancer therapy.
Here's what you need to know to understand whether CBD oil could help or hurt your immune system.
CBD and the immune system
The immune system has two ways in which it fights against diseases, the cell-mediated immunity and humoral immunity.
Humoral immunity: primarily B-cells in your body will bind with any pathogens they come across and interfere with the chemical reaction between the foreign cell and your bodies cells.
Cell-mediated immunity - the activation of 

phagocytes, antigen-specific cytotoxic T-lymphocytes, and the release of various cytokines in response to antigen.
Maintaining the right balance between the immunities is required in order to keep the immune system's functions optimal.
The endocannabinoid system, the immune system and CBD
Optimum immune function entails a complex balancing act that relies on fluid communication between our immune cells, tissues, and organs.
The endocannabinoid system (ECS), first discovered in the 1990s, gave scientists a key piece towards solving the puzzle immune system puzzle.
It is thought that active cannabinoids like CBD interact with the endocannabinoid system to help enhance the health, balance, responsivity and functions of the immune's system. The ECS is a homeostatic regulator – continually working to maintain a state of biological balance, meaning when there's an imbalance it will fire up and try to correct it.
The endocannabinoid system regulates a plethora of physiological processes, including immune function and inflammation. Both CB1 and CB2 receptors can be found on immune cells, although there are between 10-100 times more CB2 receptors than CB1. Endocannabinoids act upon immune cells directly through the CB2 receptor.
There are over 100 active photo-cannabinoids, dozens of terpenes and a host of flavonoids, naturally occurring within full-spectrum CBD oils.
Conclusion
And finally, it's important to talk to your doctor before you start supplementing with CBD oil.
We as a society still need to perform several more studies about the relationship between CBD and the immune system, but the initial findings look promising.
With the information we do know, however, CBD has great potential for maintaining homeostasis and balance in the body.