CBD Microdosing Guide: The easy way to find your perfect CBD dose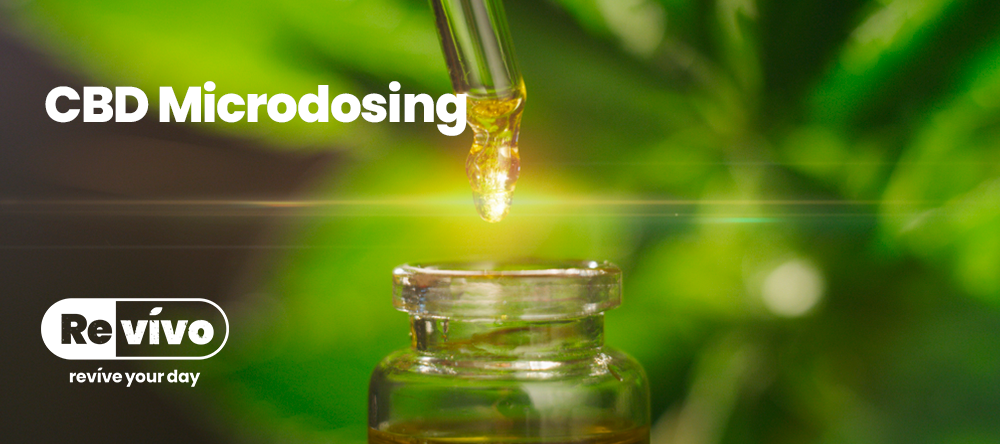 So you've bought a CBD product? But exactly what dosage should you use?
When you consume THC or CBD, it can be helpful to microdose. Read on to learn about the benefits of microdosing vs taking higher milligrams.
What is CBD Microdosing?
CBD microdosing is a low-dose technique for taking CBD, that is intended to help you get the best possible health and wellness outcomes.
Microdosing breaks up your CBD dosage into several smaller doses that are consumed throughout the day.
CBD microdosing can sound a little daunting, which is why we have put together this handy guide detailing everything you need to know about CBD microdosing.
Microdosing vs High Milligrams of THC or CBD
A lot of new CBD users do not know how to dose properly and every so called "CBD expert" has a different opinion about it. It can get even more confusing due to the range of potencies (milligrams) available, making it easy for people to start taking too high a dose of CBD oil.
This is where the technique of microdosing comes in to play as it can help you get to where you need to be.
Consuming High Milligrams of Cannabinoids
Every strain of industrial hemp cannabis contains close to a hundred different compounds including several active cannabinoids which affect the way you feel when you take a CBD product.
These cannabinoids, such as THC and CBD, are measured in milligrams (mg).
Full spectrum CBD oil contains all of the plants compounds, including its flavonoids, terpenes (essential oils), cannabinoids and vitamins, but has almost zero THC content, as it is removed to <0.02%. This not only makes it legal in the UK but also removes the psychoactive "high", whilst retaining the wellness benefits.
The potency of the CBD depends on a number of factors including what form of CBD you are consuming. Measuring the cannabinoid in milligrams is near impossible unless the grower, producer, or dispensary provides specific milligram amounts and even then the dose you are taking could be too potent to get anything other than a negative effect.
Why is it important to monitor the cannabinoid milligram content? Here are some facts to know.
Consuming too much CBD
Some people may be a little sensitive to CBD oil and may need time for the body to adjust. If this is the case you may wish to take as little as 1 drop per day to allow your system to adapt to the phytonutrients found in the CBD oil.
As with all medications there are some possible less-than-desired side effects. The risk from CBD products with close to zero THC content is however very low. It is always recommended that you consult with your doctor before making any dietary alterations.
While CBD doesn't cause the high that THC does, CBD still comes with a range of side effects.
You have a bigger risk of developing side effects when you consume more CBD than the recommended dose.
These side effects include:
Dry mouth
Lightheadedness and dizziness
Tremors
Drowsiness and sleepiness
You can avoid these side effects by taking the correct CBD dosage.
The Benefits of Microdosing
CBD is now thought to be one of the most holistic ways to treat different ailments, as it is 100% natural, plant derived and has been used for thousands of years in traditional herbal medicines.
CBD won't cause the high that THC does, however consuming too much CBD can cause you to become drowsy and even cause the side effects mentioned previously so microdosing CBD may help you determine whether this comes in to play for yourself.
This is where microdosing comes in. You're only consuming the minimum amount of CBD needed to treat your ailment. Similar to taking over-the-counter medicines like aspirin or ibuprofen but without the stomach issues and liver-damaging side effects - you also won't get dependent on it.
You'll definitely save money by not over consuming CBD, which is a big positive.
Keep in mind, the more CBD you use, the more your tolerance will increase. Don't be alarmed if you have to increase your CBD intake.
How do I get the right dose of CBD?
You actually need less CBD that you think. A lot of people take more, and will notice the heightened effect, beyond which taking more will only cause the aforementioned side effects and negate any benefits.
By correctly controlling your CBD dose you will ensure that your CBD lasts longer, ensuring that you save money and you will experience the full benefits.
To discover your personal dose it is recommended that you use the up titration method. No matter what your reasons for wanting to try CBD this is a simple and effective way to start taking CBD the right way. 
It is recommended to start off by consuming the lowest dose necessary to feel your desired effects, and then taking more after those effects wear off.
Start with a low dose of around 10-15mg per day. The additional microdosing element will mean that you take this in 5 mg servings, so 2-3 times per day.
Try this for at least 3 days up to as long as a week and monitor how you feel. Keep making minor adjustments in dosage until you reach the desired effect.
Once you have found your optimal dose, maintain it. If over time this begins to feel less effective, then increase your dose in the same manner as before. 
Remember to start low and slow. This helps enjoy your high while not overdoing it.
The above graph demonstrates how as your milligram (mg) dosage per day increases (moving horizontally across the bottom axis), your benefit from CBD will increase but only up to a point. Your tolerance may vary over time, so increase as your dosage as required.
How much CBD can I take?
Providing you use a steady approach such as the uptitration-microdosing methods then as a new user to CBD it should be a while before you are taking higher doses of CBD. As we've discussed you will be doing no good jumping straight into high dosages as your body cannot tolerate it and it will trigger negative effects.
Here's a general amount you should consume, by tolerance.
Beginner: less than 10 mg
Low tolerance: 10 mg
Experienced: less than 30 mg
High tolerance: 80 mg
The amount of CBD you can consume is going to vary from person to person, depending on consumption method as-well-as the type and quality of the product. The most common method of CBD ingestion is sublingual, i.e., under the tongue using a CBD oil. Vaping CBD can produce an even more immediate effect, however it will not be as intense. 
Ingesting CBD through oil, spray, CBD capsules and edibles, ensures that the cannabinoids are absorbed into your bloodstream, creating much more intense effects. With edibles and capsules the effects are a little slower as they need to make it through your digestive system, which is why they can take an hour to kick in.
If in doubt most CBD manufacturers will provide dosing instructions. 
Microdosing CBD Daily
Now that you know how to microdose CBD, you're probably wondering if you can microdose CBD daily. The answer is yes, you can!
CBD doesn't cause the unwanted high that THC does. CBD is also safe, non-toxic, and comes with very few side effects. Microdosing ensures you consume the correct CBD dosage and have few risks of side effects.
Mixing and matching your CBD products
Now that you are an accomplished microdoser you will now have a good understanding of how CBD affects your body, as well as a keen understanding of what CBD products doses are. It's a bit like how people who once counted calories and macros religiously somehow seem to develop a sixth-sense for it.
At this point you're practically a CBD pro and you can begin to vary up how and when you take your CBD to suit your lifestyle. For example as a smoker you may wish to vape, but you may wish to take CBD capsules before bed to improve the quality of your sleep and aid recovery.
You may want to get the full effect of CBD through an oil or take smaller doses during the day in the form of edibles. It's all game, however just be conscious of how the doses combine and try to keep your dose consistent throughout the day however you are ingesting it.
Are You Looking for Quality CBD Products?
It's essential to take responsibility when consuming CBD products. Too much of either can result in unwanted side effects. Microdosing helps prevent both issues.
Consuming the best CBD products also affects your experience. You'll want to use a high quality full-spectrum CBD oils.
We only provide the best CBD products with independent third-party laboratory testing on every batch so you know that what you are getting is quality. Take a look at our store and order your CBD products online.