Top 10 Rules to Help You Choose the Best CBD Oil and Avoid Snake Oils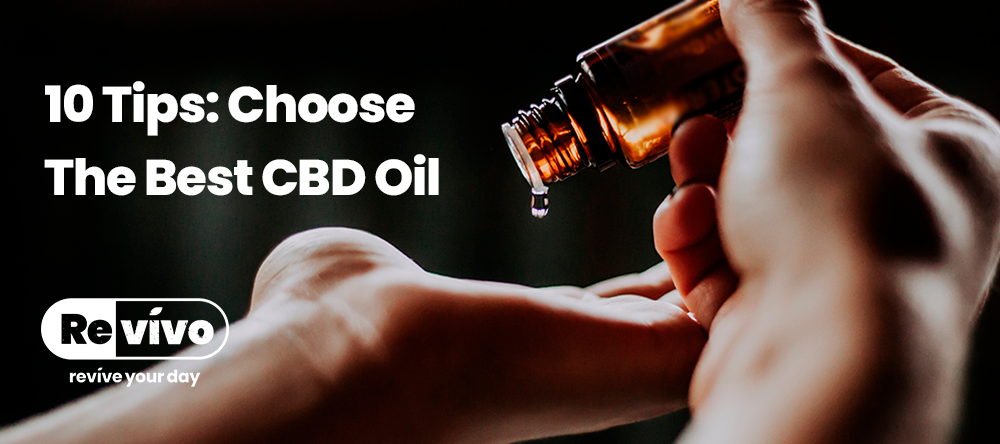 You are probably aware of the benefits CBD provides the body but with so many products on the market, you may be asking yourself, "What CBD Oil Should I Use?"
You need to select the right CBD oil product for you. First there are a few things you need to consider. Figuring out which brand to use, what CBD oil strength or concentration to use, and how much CBD to actually take is a little daunting at first.
1. Choose an appropriate concentration of CBD
Knowing the target CBD number that you would like to take each day helps give you a place to start when choosing your ideal CBD oil product. Our products fall into three potencies (concentration of CBD): 500mg (low), 1000mg (medium), and 1500mg (high). Other CBD oil products may specify the concentration as percentages instead, such as 5%, 10%, or 15% cannabidiol (CBD) but it's essentially the same thing.
Choose a product that matches your desired potency to ensure your product fits your individual needs. Our low 500mg dose of CBD is the cheapest but also the least potent with 1.7mg CBD per drop. Our medium is currently the best-selling Revivo product at 1000mg, containing 3.4mg CBD per drop and our most expensive CBD oil at 1500mg, contains 5.1mg CBD per drop.
The recommendation is to take less than 70mg per day as an absolute maximum. We recommend new users start by taking around 15mg per day. By starting out with our 500mg CBD oil you would get 17mg per day by taking our recommended 5 drops in the morning and 5 drops an hour before bed.
The FSA has not set a recommended dose for CBD and this means that recommended doses vary widely across the industry. Gradually increasing dosage over time so that you can develop your own awareness of how your body reacts to CBD oils is the safest option.
2. Check out the company's customer support
A company that knows that it is selling a quality product will not shy away from promoting customer feedback. You should look to find independent third-party verified reviews, like ours from Reviews.com.
Before you buy make sure you read real reviews from actual customers so that you can see how the company handles its customers. You will be able to tell if they are genuine and honest.
A company can write as many fake reviews as they want to appear legitimate, which is why third-party companies like Reviews.com and Trustpilot are a good way to ensure the legitimacy of customer reviews, as they contact reviewers to check they are real customers.
If you are buying from the UK make sure that you select a reliable UK based company who are willing to take your call and answer any questions that you may have. 
You may be tempted to import CBD products from other countries but due to the uncertainty around these products and the fact that some countries have legalised products containing THC, you may find that customs hold the product for an extended period and you may not receive the product at all.
3. Look for third-party laboratory testing
You should be actively questioning every product that you buy, especially where your health and wellness is concerned.
Third-party testing is the best way to judge whether a company is honest. There is no motive for an independent testing company to report or deny ingredients in a formula.
The Food Standards Agency (FSA) doesn't have any specific guidelines on CBD products yet, so consumers must rely on third-party testing for the facts. From there, you can make an informed decision about your health.
If there are third-party results, take a moment to look at them. Whenever formulas are created, foreign chemicals may be the result of a rogue reaction. Minimal traces of heavy metals may make their way into the final CBD product. Any sign of these may result in inferior CBD products. If there are not test results available, that's a sign in itself that the company may not have your best interest in mind. 
At Revivo we carefully select only the best products that have been tested by third-party laboratories and have a proven track record for purity. 
4. 

CBD Products Should Come In Adequate Packaging

How your CBD products are packaged matters almost as much as how they are sourced, extracted and formulated. The moment a hemp leaf is picked, it begins to die. As it oxygenates, valuable cannabinoids dissipate into the atmosphere. CBD product manufacturers go to great lengths to preserve these natural elements, but they all expire given enough time and once exposed to air and moisture.

To prolong the life of your CBD products, aim for products in glass containers over plastic. Glass is impermeable, meaning it will not hold onto moisture. You may have noticed that a lot of pharmaceuticals and CBD oils come in amber glass containers, that's because because they don't allow UV rays to penetrate through.
5. Full Spectrum 

CBD Versus CBD Isolate

There are two main types of CBD oils, CBD isolates or crystals, and full-spectrum oils. Full Spectrum CBD oils contain the full plant profile including many active compounds in addition to CBD.

Until recently, pure CBD isolate was considered the standard for non-psychoactive cannabis therapy. But evidence is mounting that full-spectrum oils provide a host of additional benefits not seen in isolates.

Full-spectrum oils often contain other cannabinoids such as CBDa (Cannabidiol Acid), CBN (Cannabinol), CBG (Cannabigerol) and CBGa (Cannabigerol Acid), as well as terpenes (essential oil), and other substances like flavonoids. These compounds are said to work in synergy with CBD through a natural process known as the "entourage effect".

Full-spectrum CBD oil may include these compounds:
proteins
lipids
waxes
fatty acids
chlorophyll
fiber
flavonoids
terpenes
As a result of containing all this natural goodness expect the taste to be... well shall we say earthy? It's certainly an acquired taste but it's a lot better than adding in unknown chemicals to flavour it unnecessarily.
We highly recommend that you choose a full-spectrum CBD oil to get the full host of wellness benefits from the plant extract. You can see what full-spectrum CBD oils we are currently recommending here.
6. Make Sure You Buy CBD Oil and Not Hemp Oil
CBD oil and hempseed oil are not the same. Some CBD oils are sometimes labeled as hemp oil.
CBD oil is made from the flower, bud, stems, and leaves of the Cannabis plant. Hempseed oil is made from the hemp seeds.
Hemp – this is a term used for cannabis that contains less than 0.3% THC. 
Cannabis – this term is commonly used for varieties containing higher levels of THC. 
| | | |
| --- | --- | --- |
| Cannabis | Industrial Hemp plant | Industrial Hemp seeds |
| Averaged about 17%tetrahydrocannabinol (THC), the psychoactive compound that makes a person feel "high," in 2017 | Has to contain less than 0.3% THC to be sold legally | 0% THC |
| Averaged less than 0.15% CBD in 2014 | Averages at least 12%–18% CBD | Have no more than trace amounts of CBD |
| Cannabis has medicinal and therapeutic uses for chronic pain, mental health, and illnesses | Stalks of the hemp plant can produce clothing, rope, paper, fuel, home insulation, and much more | Seeds are cold-pressed for oil production; the oil can be used in cooking (as in hempseed milk and granola), beauty products, and even paint |
Does the product's certificate of analysis prove that the THC content is within the legal allowable range? This is very important as it ensures you're buying a legitimate product that adheres to UK law. If the final product contains more than 1mg of THC, CBDV or CBN it is technically illegal to be sold in the UK. 
Many people unsuccessfully try to import products from the US which do not meet the standards for the UK market.
7. Buy Certified Organic and Free From Toxins CBD Oils
It is essential to find a trust-worthy manufacturer. 
Cannabis Sativa L. is considered a bio-accumulator so, in order to avoid taking a harmful cocktail of chemicals - which could include fertilisers, pesticides and heavy metals - you must find out if it is lab tested before buying.
Similarly, any good brand will provide full testing to show what exactly is in their product. This will include showing the absence of any pesticides and heavy metals.
Go with a brand you can trust that will provide full testing to show what exactly is in their product.
8. Choose a Pure Method of CBD Extraction
Has the CBD oil been CO2 extracted? CO2 Supercritical extraction is considered 'the gold standard' for Cannabidiol extraction, because it preserves the full spectrum of cannabinoids.
Cannabis contains over 100 cannabinoids (including CBDA, CBG and CBC), and over 300 types of chemical compounds (terpenes, phenols, flavonoids). When consumed the combined "entourage" effect can provide a whole host of wellness benefits.
Other methods of extraction such as butane do not preserve the goodness of the plant's active compounds and phytonutrients and can leave dangerous chemical residues behind.
9. 

Find Out Where the CBD Products Are Sourced

When in doubt, always make sure to buy your products from the EU. Hemp is a heavily regulated commodity and products outside of the EU may not be eligible to enter the UK. 

Industrial EU hemp plants must contain less than 0.3% THC, whereas in the US these THC levels may vary.

Many environmental aspects such as soil pH and climate can have an impact on the quality of CBD products. Before you buy any CBD products, you should look into where the company sources their product from. 
10. 

Ensure the CBD Products Have High Bioavailability
CBD like anything we consume must be broken down by our digestive system. Our stomach acids break down the compounds and release the nutrients into the bloodstream. 
In doing this, many nutrients from our foods, drinks and supplements get lost before they are absorbed. The entourage effect which comes from consuming full-spectrum CBD oils helps with the absorption of nutrients. This makes it easier for the body to digest, speeding up the absorption process ensuring your body gets the full benefit from the CBD.
11. 

Only Buy if Manufacturer Stands Behind CBD Products

A company that knows it's selling a quality product will stand behind it. If you are buying top-of-the-line CBD products, they should come with some kind of buyer's guarantee. 

Look to see if the company offer a refund for those unhappy with their product. In the case you are unhappy, be sure to take them up on the offer. It's important to get to know the company and build trust in the long run.

 
CBD Products from Revivo
Choosing quality CBD products is important. A store or online resource may supply CBD, but that doesn't mean they're CBD experts.
For any questions or concerns, feel free to turn to Revivo for information and quality. 
Don't hesitate to contact us with any questions you have, our friendly team here in the UK are always happy to help.