CBD Capsules vs CBD Oils: Which is Best?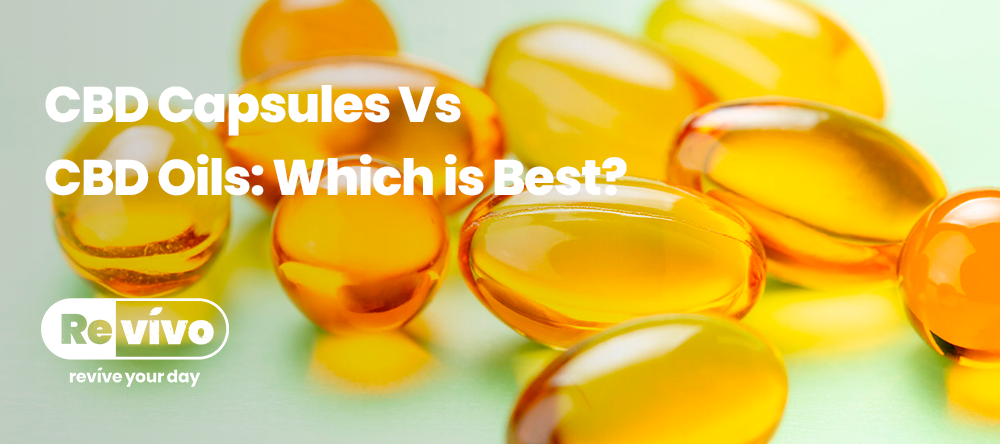 CBD, also known as cannabidiol, is an incredibly beneficial plant compound derived from Hemp that offers a whole host of wellness benefits.
People take or apply cannabidiol to treat a variety of symptoms, but there is some confusion about how you should be taking CBD.
Since CBD sprang on to the market demand has surged in the UK. There has never been more choice from CBD oils to CBD capsules, creams, chocolates, beverages, vape juices and the list goes on!!
One particular debate which keeps reemerging is the old CBD oil vs. CBD capsules debate.
For most of us the choice is unclear about which CBD product is best or why we should take one product over another.
People take CBD in different ways to relieve various symptoms. If you have heard about CBD you will probably be thinking about CBD oils, that's because it's the most common method of consumption.
CBD oil is a liquid hemp extraction that is applied under the tongue (sublingually).
But not everyone wants to hold a tincture under their tongue to get their dose of CBD. So could CBD capsules offer a more convenient option?
CBD capsules are a great alternative and we have seen consumers start to drive the demand for CBD oil capsules.
But convenient doesn't always mean better. What about bioavailability? - your bodies ability to absorb and utilise CBD, or how fast acting it is, or what the CBD is mixed with. Then there's the strengths of products available, what your budget is as well as the price factor.
Keep reading this article to learn more about the pros and cons of CBD capsules vs CBD oils, as we weigh up which one should be used and what for.
Should I use CBD capsules or CBD oils?
When it comes to CBD capsules vs CBD oils, there are several things you need to consider. First of all, you need to think about why you are using CBD in the first place.
It is not a simple case of saying one product is better than the other. You need to approach it from what your individual goals are and ask yourself "what am I trying to accomplish from taking your CBD?".
If you are using CBD for general purposes and overall balance and wellbeing, both CBD oils and CBD capsules may be able to offer you what you're looking for.
Can I take both CBD capsules and CBD oils at the same time? There is nothing to stop you from combining both so long as you do the maths and monitor your overall dosage per day. The Food Standards Agency, FSA, advises you don't go higher than 70mg per day, while some manufacturers put the risk at 135mg per day. 
Best way to ingest CBD: under the tongue or in the tum? The main difference we can analyse between CBD oil tinctures and CBD capsules are the method of ingestion and entry into the bloodstream. Tummy or tongue? To answer that we need to first briefly explain the what bioavailability is and why it matters in the great CBD oils vs CBD capsules debate.
Bioavailability
It's a question of bioavailability. What is bioavailability? Simply put, bioavailability refers to the ratio of a substance that absorbs into the bloodstream. The higher the bioavailability, the better (and more efficient) the compound assimilates into the body.
Since our bodies are made up of around 60% water, CBD oil naturally resists absorption into the bloodstream. This has a big impact on the bioavailability of some of the most popular and convenient forms of taking CBD including capsules, tinctures, topicals, and edibles.
CBD oils typically absorb faster into the bloodstream through blood vessels under the tongue rather than CBD capsules which have to be digested and broken down by the liver first. This is because CBD extract in oil form cannot be absorbed right away, as it is too large on entry to your stomach to pass through your gut lining and enter systemic circulation without being broken down by enzymes and passed along the the liver for processing. As a result CBD capsules take up to 45–90minutes to absorb into the bloodstream whereas CBD oils take 10-15 minutes to take effect.
How does bioavailability differ among CBD products? For comparison research into ibuprofen bioavailability puts it at around 80% which is very high. Certain methods of hemp extraction such as ethanol supercritical extraction may get close to this level of bioavailability but no-one knows for sure. One study found that inhaling CBD via smoke produces bioavailability of around 31%. This is probably the most concrete data we have in terms of the actual bioavailability of CBD in humans. Most estimates put both CBD oils and Capsules at bioavailability to be about 12-35%, with oil tinctures likely to be higher.
What types of different CBD capsules are there?
There are three main options when it comes to what type of CBD capsule you wish to consume.
1. MCT Oil CBD capsules are the most common form. MCT CBD capsules are a mixture of CBD and MCT oil. 
What is MCT oil? Well... what you put into your body is important so we are glad you asked... So, MCT oil is a synthetically-produced oil that is a combination of both coconut oil and palm oil.
Are MCT oils healthy? MCT oils are chock full of medium chain triglycerides. These are an abundant source of energy the body will utilise without ever storing as fat - slimmer waste anyone! 
Why use MCT oil? As well as being a fuel source the body loves it also helps to make the CBD work faster and bulks out the CBD capsule, in terms of size.
Are MCT Oil CBD capsules full-spectrum? Yes. CBD Capsules with Piperine (Black pepper extract) has been shown to help improve bioavailability levels, by some studies. Piperine is also used in some daily supplements you may know of such as Tumeric and Curcumin, you may have seen this before and that is because those compounds have low bioavailability which is increased when combined with Piperine. So it may be worth seeking out in the ingredients list when choosing your CBD capsules.
2. Oil Isolate CBD capsules are made using CBD isolate. Isolate is the scientific name describing the purest form of a compound. Put simply, CBD isolate has had everything that isn't CBD taken out. Oil Isolate CBD products are typically mixed with inert bulking powders to increase the volume of the capsule which have no nutritional benefit whatsoever when compared to MCT oil CBD capsules. 
What about broad spectrum and full-spectrum? Full spectrum is the opposite of CBD isolate. It has everything from the hemp plant including all the beneficial phytonutrients such as: chlorophyll, flavonoids, over 100 cannabinoids and around 70 terpenes (essential oils). The exact number differs depending on variety of hemp and a number of factors. Hemp used to make CBD products in the UK is strictly regulated and must come from varieties of hemp containing 0.2% THC. This is further extracted during the production cycle to be less than 0.05%.
What is THC? THC, which stands for delta-9-tetrahydrocannabinol or Δ-9-tetrahydrocannabinol (Δ-9-THC) is a cannabinoid molecule in hemp (industrial cannabis) that's long been recognised as the main psychoactive ingredient—that is, the substance that causes users to experience the marijuana high.
What is broad spectrum? Broad spectrum CBD is similar to full-spectrum CBD in that it contains most of the cannabinoids, terpenes, flavonoids, chlorophyll and vitamins that full spectrum has but it has had the THC completely removed. During the process you will loose some of those beneficial phytonutrients when compared to full-spectrum CBD oils which are considered the gold standard nutritionally. You may choose to take broad spectrum if you routinely take drugs tests for work in which THC must not be present at all. 
It's a common misconception that CBD isolate is water-soluble, but it is not. The CBD molecule itself is hydrophobic meaning it will not mix with water, even in an isolated crystalline form.
3. Water-soluble CBD oil capsules are a new technology trying to help improve the bioavailability conundrum and have enabled CBD producers to create products that break the oil particles apart into tiny molecules. These particles are then emulsified, allowing them to remain stable in this form. The small particle size simply allows them to disperse throughout water. This isn't widely available however as the cost is prohibitively expensive.
Which type of CBD capsule is best?
Because CBD relies on oils the bioavailability is low as the body cannot process CBD molecules effectively. Which is why using an MCT oil carrier which can help with bioavailability makes the most sense out of the 3 options for CBD capsules. It also makes it even more important to be aware of dosages as you may need to ingest more potent CBD oils and CBD capsules in order to get the desired effect. 
Mixing the power of full-spectrum CBD oil with a carrier vegetable glycerin with its own health benefits offers a lot more nutritionally than CBD isolate capsules as everything but the CBD is removed, meaning you miss out on the desired entourage effect.
What is the entourage effect? The entourage effect is the benefit you get from ingesting multiple plant components of the hemp plant simultaneously instead of one at a time. When ingested together the combined effect creates a synergistic effect that is missing from CBD isolate.
CBD Oil vs CBD Capsules: The Case for Oils
A CBD tincture is a liquid extract made by soaking one substance in another substance. We know that's a pretty simplified definition, so allow us to clarify by first focusing on the second substance. The most common liquid used to make tinctures is oil.
How do you take them? Sublignually (under the tongue) using a pipette dropper.
CBD oil Pros
CBD oils are incredibly popular so you have a lot more choice in what product you buy. Start extremely low in terms of potency, and work your way up slowly.
Using a dropper gives you flexibility to alter your dosage on the fly to suit your current mood.
Bioavailability is higher with CBD oils compared with CBD capsules. This makes sublingual oils ideal for general usage. You will get a more immediate calming benefit from CBD oil.
Faster acting: After the drops dissolve under your tongue, they're absorbed into your sublingual artery, the CBD travels through your external carotid artery, into your internal carotid artery, and then to your brain. The whole process — from the time you administer the drops to the time you feel their effects — takes about 15 minutes.
CBD oil Cons
Some people don't like the taste of CBD oils which can be very raw and earthy when unflavoured. This can make it hard to take on a daily basis.
It can be a bit messy, with oil covering the outside of the bottle.

If you are taking CBD for anxiety then throwing your head back in the middle of a busy office and squeezing droplets of oil under your tongue may not be your idea of calm, soothing relief. 
CBD Oil vs CBD Capsules: The Case for CBD Capsules
CBD capsules are made in a similar way to regular CBD oils, by extracting the ingredients from hemp and then suspending them in a carrier oil housed within a gel capsule. They are popular because they are so reminiscent of any other pill we take.
How do you take them? To take a CBD capsule, simply pop one in your mouth and swallow with a glass of water. 
CBD Capsules | Pros
Capsules are convenient and if you already take daily supplements, 

for example, the NHS recommends supplementing 

Vitamin D

through the winter months then incorporating CBD capsules into your routine will be easy and more likely to stick.

Capsules are better to take before bedtime as the slower release promotes deeper sleep and relaxation throughout the nighttime. 

The dosage could not be any easier. It takes out the guess work - each pill is all you need to take.
Capsules are ideal for traveling a lot, as they won't leak anywhere and make a mess.
CBD capsules are a more subtle way to take CBD than CBD oils! You will draw less attention to yourself with capsules.
They are flavourless which may influence your decision if you do not like the earthy taste of CBD oils.
CBD Capsules | Cons
Take upto 45–90minutes to start working as they have to be digested

Capsules are not yet as widely available as CBD oils, so you can't always find the exact strength you need. CBD oils on the other hand come in the widest range of strengths.
Bioavailability is lower for capsules than with oils, and the dose is less potent.
Final Thoughts: CBD Oil vs CBD Capsules
At the end of the day, CBD capsules and CBD oils come in at around the same price. With cost not becoming a large factor, you will have to look into other things when it comes to choosing between them. We recommend you look at the ingredients list to find a product that will work for you, without any nasty hidden surprises.
CBD oils might be more suited to you if you are looking for a fast-acting option, and if you don't mind the raw earthy taste. CBD Capsules will be more your thing if you are after subtlety and convenience. We would be happy to hear which you prefer if you have taken either CBD capsules or CBD oils before.
We hope this article on the difference between CBD capsules vs CBD oils has been helpful and informative, but of course, if you have any additional questions feel free to get in touch!
Thanks for reading!