Performance Nutrition: How to Use CBD to Power Your Workout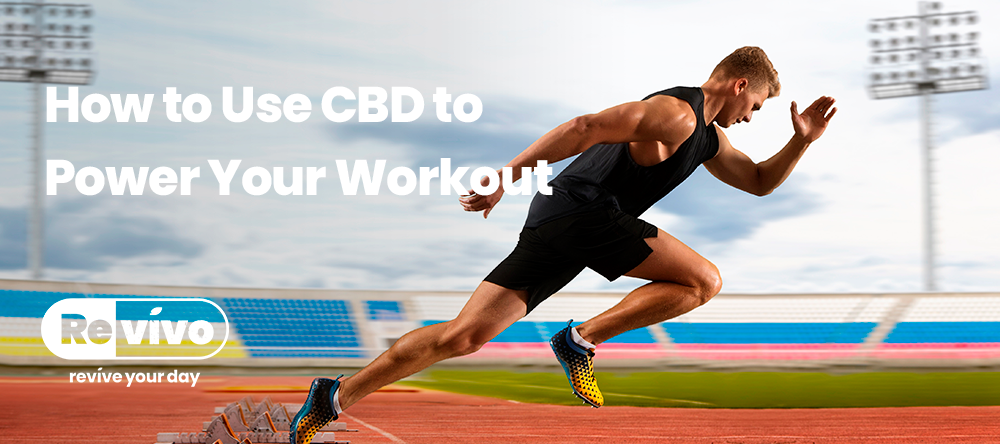 Nutrition plays a huge role in how well you can perform when exercising. CBD has a vital role to play for maintaining homeostasis in an array of processes, including mood, appetite, metabolism, stress, and sleep. 
CBD provides an array of nutrients that assist in building speed, strength, and mental focus. 
How does CBD work?
CBD is likely pleiotropic, which means that that it affects a variety of neural pathways and receptors, not all of which are strictly related, apart from being necessary for cognition and brain function.
Research suggests that CBD attaches to the following receptors:
Serotonin receptors (anxiety, pain, etc.);
Vanilloid receptors (inflammation, body temperature);
Orphan receptors (blood pressure, bone density; and nuclear receptors (tumors, dementia).
Is CBD safe to use in sporting events?
While CBD's effects are profound, users do not experience an altered state of consciousness or "high." Consequently, CBD is safe for individuals to use in sporting events. No sporting bodies classify CBD as a banned substance, it is completely legal and competition safe.
There are a few ways that we are seeing endurance athletes use CBD oil to aid their performance, recovery, and overall enjoyment of endurance sports.  Here are a few:
Using CBD for exercise recovery
Sleeping and recovery are one and the same. Sleep gives the body time to start restoration processes. Tryptophan, and magnesium regulate the sleep hormone melatonin. Not getting enough could lead to poorer quality sleep and consequently a slower recovery.
CBD appears to help with sleep because of its anti-anxiety properties and ability to promote relaxation. Melatonin directly signals to the body that it's evening and time to go to sleep by raising the naturally occurring levels of melatonin already in the body. 
3. Breen L, et al. Leucine: a nutrient 'trigger' for muscle anabolism, but what more? J Physiol. 2012; 590(9):2065-6.
4. Norton LE, et al. Leucine regulates translation initiation of protein synthesis in skeletal muscle after exercise. J Nutr. 2006; 136(2):533s-7s.
5. www.hopkinsmedicine.org/health/healthy-sleep/sleep-science/melatonin-for-sleep-does-it-work
If you are an athlete who struggles with sleep CBD may help by getting yourself into a more regular sleep pattern and benefitting from proper rest.
CBD For Performance Anxiety
For athletes, competition related anxiety can affect performance, mindset and even willingness to participate in events. CBD oil may help younger athletes or older athletes struggling with anxiety to help cope with the anxiety that athletic performance can produce. Deep breathing before a race can help but may athletes are turning to CBD to find their inner calm.
CBD for Muscle and Joint Pain
No doubt, CBD relieves pain for many people. However, endurance athletes fall into a special category. They seek out pain and have to manage it out of necessity to get their best performance. The pain an athletes will experience during a race would likely keep a regular person home from work.
CBD is a much safer, long-term alternative to opioids for athletes seeking to reduce pain. By attaching to inhibitory receptors in the brain, in this case glycerin receptors, CBD alters the perception of pain but does so safely and naturally.
Athletes remain in touch with their bodies but can play through pain more effectively. 
CBD to Treat Inflammation
The promise of CBD for fighting aches and pains and inflammation are making it a go-to supplement for athletes, but not just for post-workout recovery. There are benefits to taking CBD before you perform, too.
Studies show cannabidiol is a vasorelaxant, which means it eases tension in veins and arteries so blood can flow more freely.
Reduced inflammation allows for both faster recovery and joint preservation in the long-term. If your goal is to become a life-long athlete, CBD oil is a promising and potentially essential therapy for maintaining wellness and bio-equilibrium.
Vitamins and Minerals in CBD
Vitamins and minerals, or micronutrients, are also key. Micronutrients have functions throughout the day, from training to sleeping. For example, B vitamins help the body to use the nutrients from food for energy, while zinc is involved in reconstructing tissue.
CBD has B-complex vitamins including Vitamin B6, B12, riboflavin, niacin, and thiamine. This is particularly beneficial to Vegans who struggle to get enough sources of complex vitamins, which is why CBD should play such a vital role in your workouts.
CBD contains high amounts of iron. Vegetarians need an animal-free source of iron, and if you're not keen on taking iron supplements, then taking CBD oil or consuming other CBD products can keep your hemoglobin levels intact and assist with oxygen transportation.
6. Prasad AS. Zinc: an overview. Nutrition. 1995; 11(1 Suppl):93-9.
7. Woolf K, et al. B-vitamins and exercise: does exercise alter requirements? International journal of sport nutrition and exercise metabolism. 2006; 16(5):453-84.
CBD As An Antioxidant
CBD is a powerful antioxidant and assists your body by supplying Vitamin C, Vitamin E, flavonoids, and other properties that help in eliminating toxins. In addition, it helps to get rid of free radicals, which as you know, can slow down performance and leave you susceptible to disease and infection as the cells become damaged.
"AN IMBALANCE OF ANTIOXIDANTS AND FREE RADICALS CAN COMPROMISE OUR IMMUNE SYSTEM"
What are free radicals I hear you say? Well these are a product of exercise that can flood our bodies and cause harm. However our body uses antioxidants to neutralise these harmful molecules. When we do intense exercise our free radical production increases, sometimes above the levels of which our antioxidant levels can cope with and this is when we can struggle with our immune system. Examples of antioxidants found in our diet are Vitamin C and Vitamin E, both of which are present in CBD oil. Making sure you consume these vitamins in your diet is going to be another step towards maintaining a good immune system.
CBD to boost immune response
"THE INTENSITY OF THE TRAINING YOU DO HAS DIFFERENT EFFECTS ON YOUR IMMUNE SYSTEM"
Those that are regularly active to a moderate level are actually enhancing their immune defence above those that do no activity. When athletes push their training to the extreme we start to see an accumulation of oxidative stress and with this immune suppression.
By having a balanced training load alongside the balanced diet you will actually gain more compared to over training for weeks and then having to stop to get over illness. It may be worth seeking the advice of a coach if you are feeling run down from your training.
8. The "J-Curve" (Nieman, 1994) above highlights the relationship between an individuals exercise intensity and their risk of becoming ill.
Fat
Fat is often seen negatively but recent research has turned that on its head. Fat is actually the most calorie dense macronutrient, so it's a great source of energy. CBD gives you the perfect 1:3 ratio of omega-3s, including omega-6 fatty acids. These are great for your heart health, blood pressure, and for boosting your immune system.
Carrier Oil Health Benefits
CBD oil is often mixed with a carrier oil, usually MCT oil, such as coconut or Olive Oil which have health properties of their own. MCT oils are an abundant immediate energy source which the body can use efficiently for fuel without storing it as fat.
CBD mixed with Olive oil contains powerful antioxidants including modest amounts of Vitamins E and K. These antioxidants are biologically active and may reduce your risk of chronic diseases.
9. The phenolic compounds of olive oil: structure, biological activity and beneficial effects on human health.
10. Major phenolic compounds in olive oil: metabolism and health effects.
Hormonal Balance
CBD works within the endocrine system to balance the release of essential hormones and to maintain homeostasis. 
Using CBD ensures hormonal balance including reducing cortisol levels – which is important because cortisol (often referred to as the 'stress hormone') slows down muscle growth.
CBD for athletes
As we have discussesd, CBD can be taken in a variety of forms from, supplements, CBD oils, and CBD edibles. Some athletes choose to take a CBD oil capsule before bed to promote better sleep or apply it CBD topically to the muscles and joints following a workout to help with recovery.
Topical CBD creams can penetrate the skin to deliver essential nutrients to the body including vitamins and minerals – and it has the added benefit of improving skin condition and preventing acne.
Here are some positive benefits of CBD for exercise:
A big source of iron;
A complete protein source;
Pain reliever;
Boost endurance;
Works as an antioxidant;
Energy boosters.
There is a growing number of professional athletes who use CBD to prevent muscle soreness, and the fact that medical research shows no downside to using the compound, this has led to a shift in perception as more people embrace the product.
Start using CBD before and after your workouts to enhance performance and to reduce inflammation.