How Does CBD Work?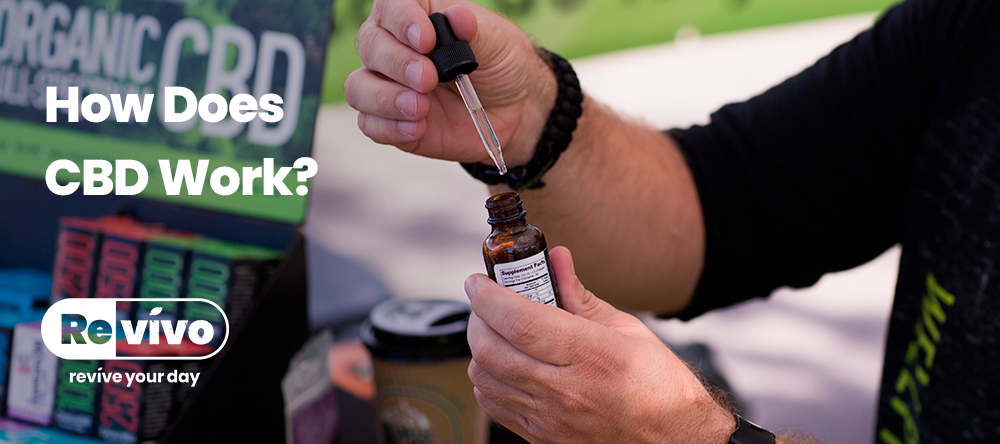 How Does CBD Work?
CBD stands for

cannabidiol

—a naturally occurring essential oil extracted from the hemp plant.
CBD works by harmonising our many internal systems, collectively known as our endocannabinoid system. This system is made up of tiny receptors throughout our bodies at over 70 different sites that interact with cannabinoids—substances that are both produced inside of us (endocannabinoids) and found in certain plants (phytocannabinoids).
Research suggests that CBD attaches to the following receptors:
Serotonin receptors (anxiety, pain, etc.);
Vanilloid receptors (inflammation, body temperature);
Orphan receptors (blood pressure, bone density; and nuclear receptors (tumors, dementia).
Supplementing your bodies' natural cannabinoids with phytocannabinoids such as CBD may help the body and mind in many ways—in fact, cannabinoid receptors are spread throughout our bodies and found in the central nervous system, peripheral nervous system, gastrointestinal system, and connective tissue.
Brain + central nervous system
Our central nervous system is responsible for processing and transforming information into activity throughout our entire bodies. The endocannabinoid system's receptors fall into two categories: CB1 and CB2 receptors. CB1 receptors are found primarily throughout our brain and nervous systems.
CBD targets a specific serotonin receptor, the serotonin 1A receptor. Its affinity with this receptor is associated with a lot of CBD's therapeutic properties. Serotonin receptors regulate the release of hormones like cortisol, which is responsible for metabolism and reactions to stress, and oxytocin, which affects social behavior. Serotonin receptors also affect a person's mood, cognition, and appetite.
Peripheral nervous system
Anxiety and depression can be debilitating. CBD's effects within the central nervous system suggest that it may provide fast-acting relief for anxiety, balancing out cortisol levels, improving behavioral responses to stress, and helping to boost overall mood.
Gastrointestinal system
Our gastrointestinal system is responsible for the body's intake, digestion, and absorption of food and nutrients. CB2 receptors are found throughout this system and may play a role in our intestinal inflammatory responses. CBD may offer benefits for those with gastrointestinal issues by helping to regulate inflammation throughout our digestive tracts.
Connective tissue
Connective tissues surrounds our muscles, bones, nerves and blood vessels, and recent research has begun to explore the presence of CB receptors throughout this tissue. The anti-inflammatory effects of CBD may work with receptors in connective tissue to positively influence and protect against cartilage degradation or inflammation in skin and joints.
here's the important part:
CBD sold in the UK has negligible THC content.
We wanted to ensure our customers were getting pure, high-quality CBD oil in our products. By UK law products must contain no CBD. There is some allowance but levels must be as low as 0.05%. So there are no psychoactive 'highs' associated with marijuana.
What are the benefits of CBD?
CBD influences how we function biologically, meaning CBD can work to regulate pain, mood, appetite, anxiety, and inflammation. 
eases discomfort
Studies have found promising evidence that CBD gives the human body's endocannabinoid system an extra boost in aiding pain relief.
---
help finding a sense of calm
CBD's effects within the central nervous system suggest that it may provide relief for anxiety, balancing out cortisol levels, improving behavioral responses to stress, and helping to boost overall mood.
---
more restful sleep
CBD can work alongside receptors in the body to help those with trouble falling asleep get to a calmer state of mind which helps you drift off to sleep and stay asleep
---
healthy skin and nails
CBD's anti-inflammatory qualities may help calm overactive sebaceous glands, whose excessive sebum production contributes to acne.
---
recovery
When athletes push their training to the extreme we start to see an accumulation of oxidative stress and with this immune suppression. CBD is a powerful antioxidant and may assist your body by supplying Vitamin C, Vitamin E, flavonoids, and other properties that help in eliminating toxins and may give a workout depleted immune system a much needed boost.
If you are an athlete you may learn more by reading our dedicated post on Performance Nutrition: How You Can Use CBD to Power Your Workouts to learn more about how CBD works when it comes to performance.
Are You Looking for Quality CBD Products?
If you're looking to keep swinging well in your later years without pain you may want to try CBD. We always recommend you buy a quality product which is not mislabelled and contains only full-spectrum CBD oil with <0.05% THC.
Consuming the best CBD products also affects your experience. 
We only provide the best CBD products with independent third-party laboratory testing on every batch so you know that what you are getting is quality. Take a look at our store and order your CBD products online.
You've got questions, we've got answers
Revivo wants to provide our community with the knowledge needed to make better decisions about their health and wellness.
📗 CBD Supplements - How Long Does It Take for CBD to Work?
📗 Performance Nutrition: How to Use CBD to Power Your Workout
📗 CBD Capsules Vs Cbd Oils: Which is Best?
📗 CBD for Pain Relief and Inflammation: What the Science Says...
📗 Top 10 Rules to Help You Choose the Best CBD Oil