CBD, Coronavirus and Your Immune System: Here's What You Need to Know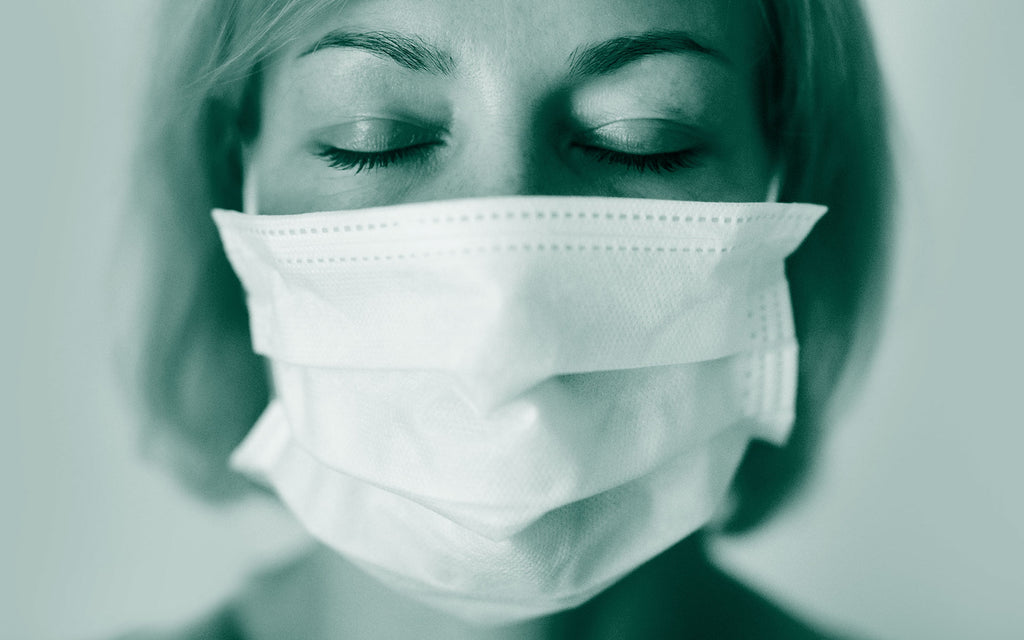 We have seen panic buying sweep the nation with a run on toilet rolls, hand sanitiser and pasta. It all seems a bit mad but we ask could CBD be the next panic buy as people look to give themselves immunity? 
The global concern over the novel coronavirus known as COVID-19 has many people taking precautions against contracting the virus. Here's what we know about CBD and COVID-19. Read on to get practical advice that's been shared about Coronavirus and how that relates to CBD users, as well as a balanced look at whether CBD can or cannot boost the immune system.
How CBD users can stay healthy around coronavirus
Stop sharing vape pens, CBD oil droppers, capsules, creams and edibles while coronavirus is spreading
Ingesting CBD can go along way towards . But sharing your CBD products with a partner, friend or flatmate is is a good way to spread any virus, including COVID-19. For now, stick to your own supply and offer a friendly elbow bump. 
Wash your hands frequently
We can't emphasise this enough. Thorough handwashing really, really, really does help prevent transmission of coronavirus, as well as other ailments. Increase the frequency that you wash your hands for a count of 20 seconds throughout the day. That's as long as it takes to sing "Happy Birthday to You". Lewis Hamilton has put out a good video which is well worth a watch.
🧼 "Don't forget that hand washing is the most important thing you can do to protect yourself and others..."

Listen up guys 👏 @LewisHamilton on how to prevent the spread of coronavirus 👇pic.twitter.com/ueviyk6sTM

— Mercedes-AMG F1 (@MercedesAMGF1) March 17, 2020
Practice social distancing. Now.
Everyone in the UK should now be fully into a social distancing regimen. That means:
If you can, work from home.
Reduce, limit, or eliminate trips to public gathering spots. Don't go to the pub and maybe give the gym a miss for a month and binge watch some Netflix on the sofa.
Keep 6 feet of distance between yourself and others.
Plan necessary shopping (groceries, medicine) for low-traffic hours, early morning or late night.
Postpone or cancel events. Weddings, birthday parties.
Help people in high-risk categories. A simple trip to the grocery store could be a life-or-death decision for them. If you're in a low-risk demographic, offer to pick up their items the next time you make a run.
Vaping and smoking
Inhaling hot smoke is the last thing your lungs need when fighting a cold or flu. Do your research before medicating and if you have any symptoms stop vaping CBD products and cigarettes and consult a medical professional immediately.
CBD's effect on your immune system and gut health
Firstly let us dispel the myths. We believe in transparency and claims that can be backed up by science. Given the general hype around CBD, expect to hear outlandish claims from unscrupulous companies about its effect on coronavirus, most likely spread via social media. These claims are not true. There is no solid research on CBD and coronavirus. 
That said science does back up the claims that CBD can support effective immune regulation.  In the medical world, the term "immune health" is incredibly broad, and it can invoke a number of different clinical interpretations. Several scientific publications have described the "immunomodulating" properties of active cannabinoids (like CBD)
"A huge proportion of your immune system is actually in your GI tract," says Dan Peterson, assistant professor of pathology at the Johns Hopkins University School of Medicine. "The immune system is inside your body, and the bacteria are outside your body." And yet they interact. For example, certain cells in the lining of the gut spend their lives excreting massive quantities of antibodies into the gut.
Your immune system plays a pivotal role in your overall health as it protects your body from harmful infections and viruses. It creates, stores and distributes your body's white blood cells which fight the bacteria and viruses that attack it.
"Keeping a delicate balance in the immune system by eliminating invading pathogens, while still maintaining self-tolerance to avoid autoimmunity, is critical for the body's health. The gut microbiota that resides in the gastrointestinal tract provides essential health benefits to its host, particularly by regulating immune homeostasis."

Source: https://www.ncbi.nlm.nih.gov/pmc/articles/PMC3337124/
Clare Thornton-Wood, registered dietician and the Association of UK Dieticians spokesperson, suggested gut health products were more likely to gain traction in the current climate. So products such as CBD could be more attractive to consumers as CBD oral oils and CBD capsules are broken down in the digestive tract before being processed by the liver and entering the bloodstream.
"People are better off boosting their immunity. Most of your immune system is in your gut" she said. "If you've got a healthy gut then you are more likely to have a strong immune system."
What we know about CBD is that hemp seeds are extremely nutritious, according to the USDA:
"they are a complete source of protein including all nine essential amino acids, and are also a source of essential fatty acids such as alpha-linolenic acid (an omega-3) and magnesium, vitamins E and B-12, as well as magnesium, phosphorus, and potassium."
That's a potent cocktail of vitamins, minerals and essential fatty acids. Who you add to that the full entourage effect comes from combining those nutritional benefits with the rest of the full-spectrum CBD benefits. Full-spectrum CBD also contains as many as 100 different Cannabinoids, up to 70 essential oils (terpenes), as well as other naturally extracted ingredients such as chlorophyll.
This is one of the reasons why traditional medicines using cannabinoids have been used for thousands of years. We liken CBD to green tea, it's a plant with a lot of nutritional benefits that may be a healthy insurance policy for your body.
What claims are being made about CBD, the immune system and coronavirus (COVID-19)?
Rebekka Shaman, Chair of the British Hemp Alliance - which lobbies to promote the hemp industry has been very vocal and enthusiastic in her support for CBD and the immune system.  She believes that sales of CBD are likely to lift as people are attracted to CBD as people are attracted to its perceived benefits to the immune system.
"CBD has better immune-boosting potential [than hemp seeds/oil]. The current regulatory landscape, therefore, is a 'crazy thing' at at time when we need to boost our immune systems more than ever."
She added that the current regulatory landscape "no longer serves 21st Century living, where we need it the most because our immune systems...don't have those endocannabinoids in our system that we desperately need." 
Harry Braham, who is founder of UK based company Good Hemp, apparently said that hemp is 'brilliant for the immune system as it's packed with Omega 3, 6 and 9, as well as protein, fibre, vitamins and minerals.' 
CBD versus probiotics for immunity
What we know is that if you have a varied diet with plenty of fresh fruits and vegetables and soluble fibre then at the end of the day, that's the best thing you can do for your immunity. Any dietary supplements such as CBD or probiotics are just the icing on the cake.
There is 'zero evidence' that CBD will improve your wellness or health, immune system or have any effect on coronavirus (COVID-19)
Many figures within the CBD community were quick to distance themselves from this view and offer some balance. What we want to see above all else is a safe and well-regulated CBD market in the UK. 
Dr Andy Yates, Science Lead at The Association for the Cannabinoid Industry, told Food Navigator, "there is currently absolutely no evidence that CBD can play a role in altering the course of coronavirus (COVID-19) disease and I would strongly urge the CBD industry from making any suggestion, however subtly. During a time of serious national and international challenges our industry needs to leadership and a strong moral compass and do the right thing. If companies are interested in researching the potential anti-inflammatory or other effects of CBD in Coronavirus or any other disease state then they should make the investment in doing the proper research to generate data and publish that data in a peer-reviewed scientific or clinical journal for others to access, verify and build upon."
Are there any more Coronavirus (COVID-19) tips?
Take precautions about physical contact with others
Stop shaking hands. A wave or friendly verbal greeting helps everyone. You don't need to lock yourself in a panic room, but do consider your interactions with other people and with public surfaces when out and about.
Leave the face masks for ill patients and healthcare providers
The CDC and other health agencies are clear on this: Masks are meant to prevent already infected patients from spreading the virus, and to protect healthcare professionals working in high-risk environments. Frequent handwashing is far more effective than wearing a mask.
Be aware of COVID-19 symptoms
Don't jam up the emergency room if it's just a common cold, but get yourself tested if you fit the criteria for COVID-19 symptoms. Those include:
Fever
Cough
Shortness of breath
Have been in contact with a COVID-19 patient, or traveled recently to an area with ongoing spread.
Note: The definition of "area with ongoing spread" changes practically by the hour, and this item on the symptom list is becoming less important as the virus is recognised as extant in local communities.
Have a self-quarantine plan
At this point we're talking about a spectrum, from choosing a work-at-home option (if you're fortunate enough to have that choice) to a full-on home quarantine. The CDC has a page of recommendations for those who stay home with a suspected case of COVID-19.
Check yourself with this flow chart
Illustrator Wendy MacNaughton teamed up with UCSD infectious disease expert Eliah Aranoff-Spencer to create this updated guide, published on Medium.
The future of CBD in Britain  
Reconnect with locally grown ingredients
For hundreds of years, hemp has been grown in Britain. There were fields upon fields of hemp and we would love to see the CBD industry help revive this incredible crop and bring the highest quality natural organic produce to our customers.
After this #coronavirus , Globalisation may have to rethink itself - #China is the world factory for about everything . Globalisation is gone too far -each country should rethink itself, reconnect,reinvent our former crafts,cloth ...etc grow our food, @FranceintheUK #UK

— Raymond Blanc (@raymond_blanc) March 11, 2020
UK famers can currently harvest hemp seeds, which are used in food supplements,  but cannot take oil from the flower which is where CBD is found in high concentrations. 
Until this changes we will continue to source the best hemp seed oils from the EU. The majority of CBD oils sold in the UK are supplied from Poland and Lithuania.
The UK industry would receive a big boost by allowing UK hemp farmers to harvest oil from the flowers and create a UK CBD oil form seed to bottle. Until such a time you can rest assured that we have chosen the best suppliers in the EU, who guarantee the quality of every bottle so that we can continue to offer our customers the gold standard when it comes to CBD oil quality.
Will this affect CBD product supplies?
Most vape batteries and wholesale vape cartridges are manufactured in China as are a lot of the packaging used to product CBD products. Those supply chains have already seen slowdowns and interruptions due to quarantines impacting the Chinese manufacturing sector.
The US imports about 30 million Chinese vape pens and cartridges every month. Most shipments stopped due to the annual Chinese New Year shutdown in mid-January and haven't fully resumed due to the coronavirus.
At Revivo we have taken every measure to help protect our supply of CBD products that our customers are relying upon throughout this difficult time by securing long term stocks of ingredients and packaging to cope with the increased consumer demand. We have also taken every precaution to ensure that delivery times are unaffected. 
CBD Products from Revivo
Choosing quality CBD products is important. A store or online resource may supply CBD, but that doesn't mean they're CBD experts.
For any questions or concerns, feel free to turn to Revivo for information and quality. 
Don't hesitate to contact us with any questions you have, our friendly team here in the UK are always happy to help.
Anyone who wishes to use CBD should first speak to a doctor about whether it is a good idea, and how much to take.