The Top 5 Supplements We Take Every Day To Stay Healthy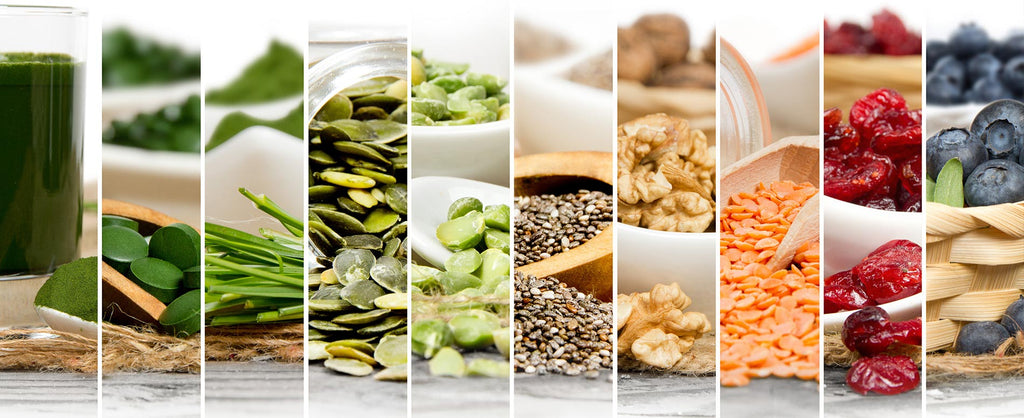 The supplement industry in the UK is set to be worth over £214 billion by 2024. We asked team members at Revivo to tell us what supplement they can't live without.
- An abridged version of this blog post was sent out via email on 4 Feb, 2020 -
It's not the most sexy topic of conversation to bring up at the office (unless it happens to be ours) but supplements play a huge part in our daily lives and help us stay healthy.
We're not alone either, 75% of adults in the US and 46% in the UK take some form of supplements to manage or prevent health issues.1 2
We think there are 3 main reasons behind this need for supplements:
How and what we are eating has changed a whole lot. Over the past 50 years food has become increasingly over-processed and as a result declined in nutritional value. 

3

 

The modern environment exposes us to toxins in our food, water, air and even personal cleaning products. 

Stress levels and gut issues are also on the rise, which interferes with nutritional absorption. 
If you add in to that our own unique differences in lifestyles and it's no wonder why so many people are turning to supplements to fill in their nutritional gaps.
Let's be clear we sell supplements (just the one though, yes - CBD!), but at Revivo we each take our own different supplements to support our unique lifestyles.
We all are all pushing forward, fighting our personal battles and chasing our dreams every single day. And we already take time to eat right, work out, drink plenty of water… skin care - you get the idea…
The surprising truth is that 90% of us have some form of nutrient deficiency, even if you do everything possible to stay healthy.4
So why skimp on the easiest way to boost sleep, energy, mental focus, your immune system, and even add years on to your life?
We want to give you a few personal examples from around the office of what our favourite supplements are and why we take them.
1. Greens -
Chosen by Tom
I think of this like my insurance policy. I work out a lot and I know that I can feel my body starting to let me know - I start to get run down and feel like I'm coming down with something. Taking a blend of superfood greens gives my immune system a little edge and I never actually get ill and can keep on training. 
I try to eat a healthy Vegan lifestyle so I do get a lot of nutrients in my diet but I tend to gravitate towards the same types of foods and a complete mix of greens helps ensure I have better energy, recovery, sleep and immune response. The one I take, which comes with probiotics, nutrient dense herb extracts and antioxidants to give you an added kick.

2. CBD Oil -
Chosen by Jess
What can I say…? I fell in love with CBD oil ever since one of the girls I do yoga with told me about it one day after class over a frothy coconut latte.
As an anxiety sufferer and frequent worrier I thought I'd got nothing to lose by giving this CBD a try. I got started with the 500mg tincture, under my tongue twice a day and after a couple of days I really did feel a difference. I felt a lot more relaxed, balanced and clear-headed and my anxiety has taken a back seat. I thought it wouldn't last but I've been taking those little drops ever since and I even started a little CBD company that has grown to become Revivo.
Over the years I've seen hundreds of customers go on a similar journey. Anxiety, depression, joint pain and arthritis, the list goes on. CBD oil is by the best supplement I will ever take and the best part of my job is knowing the good that quality full spectrum CBD oil is doing people.


3. Apple Cider Vinegar -
Chosen by Chloe
I decided it was time to do something about my skin, which had always been a bit blotchy and red. I started doing this thing where you eliminate foods to see what foods if any might be causing it.
What I found was that I had quite a severe gluten allergy and a few minor ones. As soon as I reintroduced gluten into my diet the problems started again and my skin flared up, so I knew that gluten had to go.
Ever since I've been really proud of my complexion and since I started using apple cider vinegar in my smoothies I've noticed an even bigger improvement. I'm never going to be a beauty model, but I'm over the moon with how healthy my skin looks and people can't believe the difference. I took before and after photos that people couldn't believe and when they see me in person they are speechless and just so happy for me.
Not only can apple cider vinegar help keep your skin healthy but it can also help with weight loss, help your body detoxify and support healthy digestion. What's not to love!?

4. Probiotics -
Chosen by Alex
Chloe nicked one of my favourites, apple cider vinegar is high on my list. The raw unfiltered stuff has the really beneficial probiotic bacteria in it - you can see it floating around in a mass at the bottom, called 'the mother'. 
Modern science is really taking a huge interest in our gut and one thing we now know because of that is that 80%5 of your immune system is located in your gut, and up to 95% of your serotonin (the neurotransmitter responsible for regulating mood) is produced in your gut.
I've been interested in probiotics for a while. I first started taking an off-the-shelf supermarket product (Actimel, Yakult etc), however as I've done more research into it I've learned there are better ones out there that aren't dairy and contain more strains of bacteria proven to be beneficial for the gut. The ones I take contain 4 strains of bacteria naturally occurring in healthy digestive systems in humans and are much more convenient to take as they come in capsules. 

5. Tumeric/Curcumin -
Chosen by Tom
I'll take this last one! I run a lot of marathons and distance running comes with its fair share of inflammation and joint pain (my right ankle is a constant source of it).
As a result I am always trying new things, which is one of the reasons I started to use CBD oil and especially CBD cream which has helped my ankle out massively. But one more conventional supplement that I've been taking for over 2 years to keep my inflammation at bay is tumeric + curcumin.
Tumeric is not just that spice you put on your curry, it possesses anti-inflammatory and anti-cancer properties. It also improves circulation and prevents blood clotting. Turmeric's active ingredient curcumin is responsible for lowering the levels of two enzymes in the body that cause inflammation.
Are You Looking for Quality CBD Products?
It's important that we take responsibility for our bodies and our health. No matter what we consume we need to make sure we are smart about what goes into our bodies, especially when it comes to CBD products. 
You'll want to use a high quality full-spectrum CBD oil.
We only provide the best CBD products with independent third-party laboratory testing on every batch so you know that what you are getting is quality. Take a look at our store and order your CBD products online.
References