CBD Oil for IBS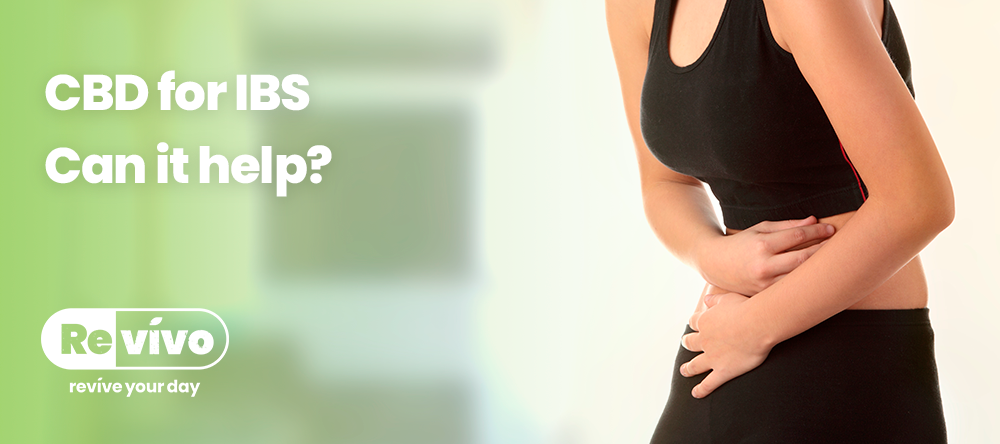 CBD Oil for IBS
Cannabidiol (or CBD), a nonpsychoactive natural plant compound extracted from hemp, is thought to ease everything from anxiety to chronic pain, but if you have ever wondered if it could help treat your inflammatory bowel disease (IBS), the answer could well be yes.
Affecting an incredible 20% of the UK population, Irritable Bowel Syndrome (IBS) is a long-term digestive condition that causes discomfort and bloating. According to the research, women are more susceptible to suffer the condition with an estimated 23% of women diagnosed with the condition compared to 11% of men – however men are less likely to report symptoms.
This is usually when sufferes of IBS turn to holistic, natural remedies to relieve the. It turns out that CBD for IBS may be the solution that many of us have been looking for.
CBD is a new frontier in the fight against IBS. Below we are going to take a closer look at how CBD may be able to help sufferers of IBS. Is CBD oil for IBS effective, and could it help relieve the uncomfortable symptoms?
What is Irritable Bowel Syndrome (IBS)?
Irritable bowel syndrome (IBS) is a gastrointestinal disorder affecting, in particular, the large and small intestine. Signs and symptoms often include irregular bowel movements, recurrent abdominal pain, bloating, cramps, diarrhoea, and/or constipation.
The debilitating effects of IBS impact your daily life and wellbeing. The condition changes bowel movements and can affect social engagements and even emotions.
Common irritable bowel syndrome (IBS) symptoms
The main symptoms of IBS are:
stomach pain or cramps – usually worse after eating and better after doing a poo
bloating – your tummy may feel uncomfortably full and swollen
diarrhoea – you may have watery poo and sometimes need to poo suddenly
constipation – you may strain when pooing and feel like you cannot empty your bowels fully
There may be days when your symptoms are better and days when they're worse (flare-ups). They may be triggered by food or drink.
There are various treatments available to help manage IBS. Not all of them are effective for all people. Some of the medications only cater to a few of the symptoms and might even aggravate the rest.
Some people suffering from IBS are lucky and can manage the severity of the symptoms by maintaining their diet, stress levels, and lifestyles while other patients require medication every day of their lives.
General tips to relieve irritable bowel syndrome (IBS) symptoms
There is no cure for IBS and as such doctors will often advise patients to review their diet and make changes that may ease the symptoms of IBS.
IBS is multifaceted with each person experiencing some or all the symptoms over their lifetime but it is generally accepted that certain changes should have a positive impact such as:
cook homemade meals using fresh ingredients when you can
keep a diary of what you eat and any symptoms you get – try to avoid things that trigger your IBS
try to find ways to relax - did you know CBD can relive stress and anxiety?
get plenty of exercise
do not delay or skip meals
do not eat too quickly
Diet adjustments
As IBS is a digestive system issue, often symptoms will occur following a meal. It is believed that small changes to the diet can result in big changes to the frequency of IBS symptoms. Here are the recommended foods to try and avoid.
You should eat more:
Gluten-free Whole Grains
Fruit (bananas, citrus, grapes, and berries in particular)
Vegetables (Cabbage, cauliflower, and broccoli may cause gas)
Fish, chicken, meat
You should avoid eating:
Spicy foods
Too much fruit
High-fat foods, Fizzy drink, Caffeinated drinks, Alcohol
Fried Foods, Dairy foods, Processed foods
Sugar-free sweeteners
Beans, garlic, onions
Gluten
Probiotics
Probiotics are live bacteria and yeasts promoted as having various health benefits. They're usually added to yoghurts or taken as food supplements, and are often described as "good" or "friendly" bacteria.
The digestive system is full of beneficial bacteria that promote a healthy gut. When the gut is out of sync, or when antibiotics are used which kill good bacteria, probiotics can replenish the 'good bacteria' that was lost.
Probiotics are live yeast or yeast found in foods that inhibit the growth of bad bacteria, help fight inflammation, reduce gas build-up, and enhance the immune system all of which help with IBS symptoms.
What is CBD Oil?  
CBD is short for cannabidiol. It is a phytocannabinoid which was discovered in 1940. It is one of the hundreds of naturally occurring chemicals in the cannabis and hemp plants. CBD oil is extracted from the hemp plant using super critical CO2 extraction to get the most pure plant extract retaining the whole plant goodness.
The resulting full spectrum CBD not only contains CBD (Cannabidiol) but over 100 other Cannabinoids including CBG (Cannabigerol), around 70 natural plant terpenes (essential oils), flavonoids, chlorophyll, vitamins and phytonutrients. These compounds work synergistically to create the unique entourage effect, which increases the effects felt.
CBD oil is legal in the UK if the THC level is negligible (close to zero). Today, CBD is readily available to all who want to use it as long as they are of legal age. You will find different CBD products which include CBD tinctures, CBD creams, CBD balms, CBD muscle rubs, CBD vape juice and gummies as well as CBD drinks, among others.  
What Causes IBS? 
As it turns out, IBS impacts or could possibly be caused by imbalances in:
The gut microbiome
The endocannabinoids system
Intestinal permeability (aka leaky gut)
The immune system
We should stop thinking of Irritable Bowel Syndrome as a mere digestive disorder. IBS truly is a "whole body" problem. Modern science tells us how important the gut microbiome is for the immune system and overall body health.
The huge scope of this condition is the reason that seemingly unrelated treatments – probiotics, restricted diets, exercise, relaxation techniques, and supplements like CBD oil – could all work together towards one's holistic well-being.
How can CBD help IBS? 
The cannabis plant has been utilized for thousands of years to treat many gastrointestinal problems, including diarrhea, nausea and vomiting, intestinal pain, and inflammation in the bowels. 
Recent studies claim that the cannabinoids naturally produced by the body play an important role in regulating the gastrointestinal system,  through utilising the body's own endocannabinoid system, ECS. Your GI system is filled with receptors that help these cannabinoids to function and to directly impact the health of the gastrointestinal system, which may help conditions like IBS.
Here are several ways that CBD and IBS might work well together.
CBD helps to relieve nausea. Nausea is a common symptom of IBS, making it difficult for patients to eat regularly. This can cause IBS symptoms to flare up when the patient finally eats after long periods of time. Since CBD helps to relieve nausea, patients should be able to eat more regularly.
CBD may help to relax the tissue in the GI tract, which may lead to less spasmodic episodes. 
CBD can help reduce pain and inflammation in the patient's digestive system, helping to reduce the symptoms of IBS and the associated discomfort.
Scientific research into CBD for IBS
Recent research has found that CBD is effective at reducing inflammation in the gut and resulting intestinal damage and can also block gastrointestinal mechanisms that promote pain in IBS and related disorders.
Still more research has revealed the important role of the body's endocannabinoid system in the control of a variety of gastrointestinal functions, including motility, gut–brain-mediated fat intake and hunger signaling, inflammation and gut permeability, and dynamic interactions with gut microbiota, suggesting more possible uses for CBD in treating gastrointestinal disorders.
How Should You Take CBD? 
How to take CBD depends on the type of CBD products you buy. While there are different types of CBD products, so far, there are only three ways to introduce CBD into your body.
By far the most common method is taking CBD orally with CBD oil tinctures. CBD tinctures are taken sublingually – under the tongue. A few drops of the product are dropped under the tongue and held there for a few minutes to be absorbed. 
We recommend our 5% Full Spectrum CBD Oil is a good option for beginners.
If you feel the need to increase your dose, or if you are already a  CBD user and know you need a higher dose, we also stock 10% CBD Oil and 15% CBD Oil.
Generally, the serving standard is 25mg of CBD taken twice daily. If you don't experience the desired results, then you can increase the serving size by 25mg every three to four weeks until you find relief.
It can usually take at least one month to build up enough of a supplement in your body to have a meaningful impact and show up on blood results. However, CBD drops under the tongue will give you a calming effect as it is absorbed directly into the bloodstream without needing to be digested and processed by the liver, as with CBD capsules.
You can also ingest other CBD products like drinks, edibles and CBD capsules and tablets. For these products, you have to swallow the CBD. In this case, the CBD has to go through the digestion processes, which lowers the bioavailability of the CBD.
There are also topical CBD products such as CBD balms and muscle rubs that are applied to the skin and absorbed through the pores of the skin.
How you take CBD oil depends on the CBD product you buy. Luckily there are plenty of products to choose from depending on your preference.
CBD Oil Treatment Tips
To get the most out of CBD oil, there are some critical tips you need to follow:
Have a method of accurately measuring your CBD dose. Having a constant CBD dose will ensure your body has access to the same amount of CBD each time. CBD oil tinctures usually come with a pipette and a recommended number of drops twice per day.
You should take CBD at the same time each day. This provides your body with a reliable supply of CBD at the same time and will allow it to become a habit. Having it with a coffee in the morning and warm drink before bed, if you already do this will make the habit even easier to form as you are piggybacking on an existing habit.
Try to buy full spectrum oils and opt for cold-pressed products. This process preserves the properties of CBD.
Purchase quality CBD products from reliable and reputable brands that follow the guidelines.
It's recommended to talk to your doctor before making any change to your diet. While there have been no adverse effects reported by those that have tried CBD oil, you can't ignore the fact that it can interact with other prescription medications. 
Things to be aware of before taking CBD for IBS
According to the World Health Organisation, Cannabidiol (CBD) 'does not appear to have abuse potential or cause any harm.' CBD is not a psychoactive compound, and does not get you high. Most users will not experience any adverse side effects, although it's possible to feel slighlty lightheaded but this varies from person to person.
Before using CBD for IBS, you should ask your doctor if you're taking any other medications or supplements (prescription or otherwise), especially medications for pain.
CBD interacts with and could slow down the liver enzymes which break down some prescription medications, making it a good idea to get medical advice before using CBD for IBS.
Closing thoughts on CBD for IBS
Irritable Bowel Syndrome (IBS) is an uncomfortable condition that affects millions of people all around the world. Although there are several treatments out there that strive to alleviate the symptoms of IBS, many of them are do very little to relieve patients of the debilitating symptoms.
If you're tired of the discomfort, pain and oftentimes embarrassing symptoms of IBS, it may be time to consider trying CBD oil to relieve your IBS symptoms.
CBD Oil is a natural, plant-based product that many users have found effective for improving their IBS symptoms, from bloating and gas to diarrhea, nausea, and pain.