Can CBD Really Soothe Arthritis and Joint Pain in Older People?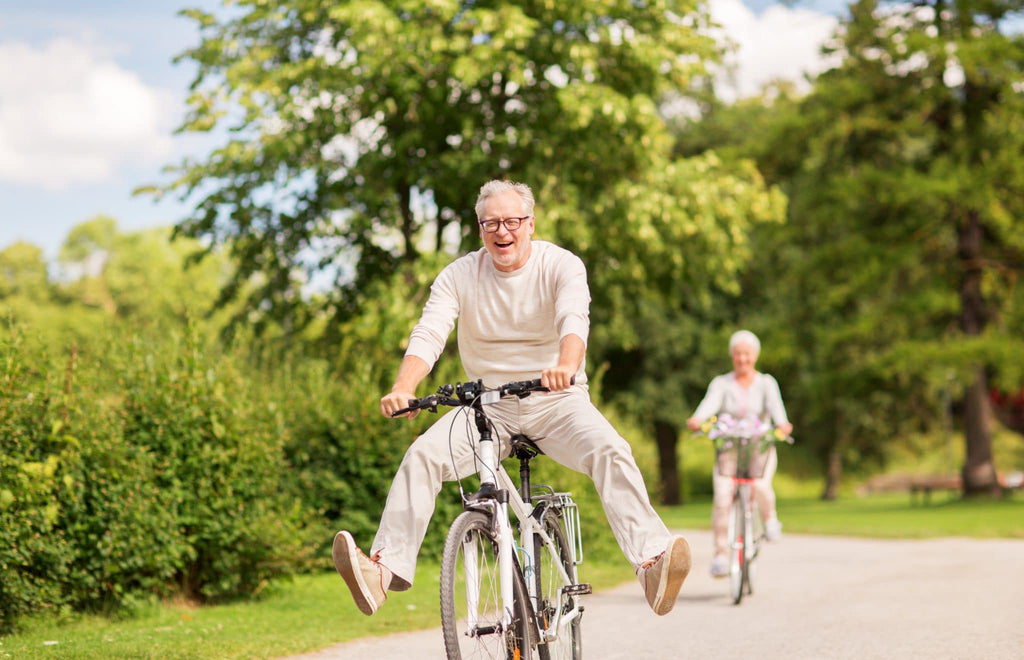 Recent studies suggest that cannabidiol oil could help play a role in the treatment of arthritis. What are the benefits of cannabidiol oil and are there any side effects people should be aware of before using it?
Getting old doesn't have to mean you feel old. You may be starting to feel aches and pains, or even... arthritis. Cutting edge scientific research suggests that CBD may help to reduce inflammation, particularly promising as arthritis is joint inflammation.
There are many claims about CBD that have been trumped up, such as its ability to cure cancer. Such claims should be taken as anecdotal until there is more evidence, however there is evidence that CBD can reduce joint pain and inflammation which is good news for our ageing population. 
What is CBD…? CBD, or cannabidiol, is a new wellness supplement extracted from the cannabis plant but with all the THC removed (typically this means they contain no more than 0.05% THC). This means you will not get high from CBD, but will you feel less pain and move more freely?
Does CBD work on arthritis?
Image: Getty Images
Arthritis is a disorder that causes inflammation and pain in one or more joints. Studies show that cannabinoids have anti-arthritic effects and can help manage pain and inflammation associated with the disorder.
The award-winning Star Trek actor SIR Patrick Stewart says cannabis is the only drug that can relieve him from the agony of arthritis. 
Sir Patrick, 79, has had a long career including leading roles with the Royal Shakespeare Company and more recently starred in Logan, which was a hit at the box office and with critics all over the world. He's been able to gain much of his mobility back and felt instant relief from his pain symptoms when using CBD based products.
"I have arthritis in both my hands and thumb joints and have been prescribed various drugs, including a cream which didn't do much.... The moment I started using cannabis-based cream it worked and I could feel an immediate reduction in discomfort."
Whilst Sir Patrick has access to products containing THC, CBD does have scientific research supporting its inflammation reducing properties, without the psychoactive element in the form of THC which is what gives you the famous "high". CBD oils legally sold in the UK are THC-free.
He is not alone. There still needs to be more clinical studies but the few that are coming out support the anecdotal evidence of people who have decided to boldly go out and start using CBD products in the hope that it would help ease their debilitating pain - and have been rewarded.
We've previously talked about how golfers are reducing their pain and it's all thanks to your internal endocannabinoid system, taking extra cannabinoids can help. CBD oil  interacts with vanilloid receptors in your body to reduce the perception of pain. It  acts as an anti-inflammatory agent and treatment for arthritis, as arthritis is an inflammation of the joints.
Currently the UK government refuses to legalise medicinal marijuana on the NHS due to cost, pharmaceutical companies want you to rely on nonsteroidal anti-inflammatory medication, which can cause kidney damage and other health problems with prolonged use. 
How does CBD relieve joint pain and inflammation?
Research has shown that cannabis can help manage the pain and inflammation associated with arthritis and joint pain. CBD has a more subtle effect than a 50/50 THC + CBD combination would, however THC remains illegal in the UK. 
Cannabidiols have a more indirect role in pain management. 
Your body produces its own cannabinoids which interact with receptors in the brain which are part of the endocannabinoid system in the body14. Two such (CB1 and CB2) are responsible for regulating neurotransmitter release and central nervous and immune system cells to reduce pain.11
Activating the CB1 receptor has been found to reduce pain sensitivity of osteoarthritic knee joints in rats7. One study concluded that CBD significantly improved pain during joint movement, pain while at rest, and quality of sleep in patients with rheumatoid arthritis3. 
If you are experiencing joint pain, arthritis pain from rheumatoid arthritis, osteoarthritis or any other form of arthritis, then more clinical research needs to be done however the early research is very exciting.
Can CBD reduce osteoarthritis pains?
Osteoarthritis is the most common type (there are over 100) of arthritis. Osteoarthritis is a degenerative joint disease, where the protective cartilage on the ends of bones becomes worn down. 
Another common type is rheumatoid arthritis, which is when the body's immune system mistakenly attacks healthy cells, including the synovium that lines the joints. Further common types of arthritis include juvenile arthritis, which develops in children; psoriatic arthritis, which affects people with psoriasis; infectious arthritis, which is an infection that spreads to a joint; and gout, which is caused by the buildup of uric acid.
Preclinical trials suggest that cannabis may help limit the damage of different types of arthritis. In an animal trial, cannabidiol (CBD), a major cannabinoid found in cannabis, effectively blocked the progression of arthritis. Researchers found that CBD protected joints against severe damage and concluded that CBD offers a potent anti-arthritic effect6.
A recent study in mice with osteoarthritis found that cannabinoids offer strong anti-inflammatory and immunosuppressive properties and reduce joint damage. 8,9. Cannabinoid treatments were found effective for reducing osteoarthritis-related cartilage breakdown4.
Will CBD or Cannabis treatments for arthritis and joint pain be legalised?
The short answer is no. The UK Government has no plans to make Cannabis legal in any form.
MPs in Great Brtiain have been calling for a law to allow use of cannabis treatments for medicinal purposes, with polls suggesting 58 per cent of people would back such a move.
Science is playing catch up. All of the stories from high profile people such as Sir Patrick Stewart and the thousands of people up and down the country will likely not sway the government until the research has been established.
In recent years, studies have increasingly supported the medical value of cannabis in treating such conditions as multiple sclerosis, epilepsy and arthritis, and for dealing with nerve pain.
It could be 10 years before we see any meaningful change to UK law regarding cannabis. Oxford University in collaboration with Kingsley Capital Partners are investing £10 million to create a global centre of excellence in cannabinoid research. If that alone doesn't tell you that the future is very bright for CBD, then I don't know what will.
Clearly CBD has gotten the public on board as well as the GPs and scientific community. All it needs now is for the efforts to continue and the interest and demand to keep rising over the next decade.
But I need it now!
The good news is that full spectrum CBD oils contain 100% of the plant extract (minus the THC, so you will not get high). Just make sure that you choose a trusted UK based supplier offering pure Full Spectrum CBD Oils.
What is the best CBD for the elderly?
There's a whole array of different ways to take CBD and the best way to take CBD depends on your individual requirements.
How do I take CBD oil? CBD oil is most commonly taken sublingually, i.e, under the tongue and is the most effective way to get a precise dose of CBD which is absorbed instantly into the bloodstream.
Sublingual is the process of placing the oil under the tongue and allowing it to absorb, which typically takes 90 seconds. 
Other ways to take CBD include CBD Capsules and CBD Sprays.


How much CBD should I take for my arthritis?
If you are suffering from arthritis, osteoarthritis or any joint pain you should slowly increase your dose (for example by 1 drop per day) until you reach the desired effect. With CBD if you have too much the effects will begin to be negated - there's a sweet spot you want to stay at.
The sweet spot is different for every person. Start with a dose of around 10-15mg per day. Evaluate how you feel on a weekly basis. Increase the dose week on week until the point you feel you have reached your desired effect. 
Resources:
Arthritis. (2014, July 15). Mayo Clinic. Retrieved from

http://www.mayoclinic.org/diseases-conditions/arthritis/basics/definition/con-20034095

.

Arthritis. (n.d.). MedlinePlus. Retrieved from

https://www.nlm.nih.gov/medlineplus/arthritis.html – cat51

.

Blake, D.R., Robson, P., Ho, M., Jubb, R.W., and McCabe, C.S. (2006, January). Preliminary assessment of the efficacy, tolerability and safety of a cannabis-based medicine (Sativex) in the treatment of pain caused by rheumatoid arthritis. Rheumatology, 45(1), 50-2.

Kong, Y., Wang, W., Zhang, C., Wu, Y., Liu, Y., and Zhou, X. (2016, June). Cannabinoid WIN‑55,212‑2 mesylate inhibits ADAMTS‑4 activity in human osteoarthritic articular chondrocytes by inhibiting expression of syndecan‑1. Molecular Medicine Reports, 13(6), 4569-76.

La Porta, C., Bura, S.A., Negrete, R., and Maldonado, R. (2014, February). Involvement of the endocannabinoid system in osteoarthritis pain. The European Journal of Neuroscience, 39(3), 485-500.

Malfait, A.M., Gallily, R., Sumariwalla, P.F., Malik, A.S., Andreakos, E., Mechoulam, R., and Feldmann, M. (2000). The nonpsychoactive cannabis constituent cannabidiol is an oral anti-arthritic therapeutic in murine collagen-induced arthritis. Proceedings of the National Academy of Sciences of the United States of America, 97(17), 9561–9566.

Schuelert, N., and McDougall, J.J. (2008, January). Cannabinoid-mediated antinociception is enhanced in rat osteoarthritic knees. Arthritis and Rheumatism, 58(1), 145-53.

Sumariwalla, P.F., Gallily, R., Tchilibon, S., Fride, E., Mechoulam, R., and Feldmann, M. (2004, March). A novel synthetic, nonpsychoactive cannabinoid acid (HU-320) with antiinflammatory properties in murine collagen-induced arthritis. Arthritis and Rheumatism, 50(3), 985-98.

Sumariwalla, P.F., Palmer, C.D., Pickford, L.B., Feldmann, M., Foxwell, B.M., and Brennan, F.M. (2009, January). Suppression of tumour necrosis factor production from mononuclear cells by a novel synthetic compound, CLX-090717. Rheumatology (Oxford), 48(1), 32-8.

What Is Arthritis? (n.d.). Arthritis Foundation. Retrieved from

http://www.arthritis.org/about-arthritis/understanding-arthritis/what-is-arthritis.php

.

Woodhams, S.G., Sagar, D.R., Burston, J.J., and Chapman, V. (2015). The role of the endocannabinoid system in pain. Handbook of Experimental Pharmacology, 227, 119-43.

Medical cannabis (and cannabis oils). NHS. Retrieved from:

https://www.nhs.uk/conditions/medical-cannabis/

Cannabinoid biomedicine research programme launched. Oxford University. http://www.ox.ac.uk/news/2017-03-15-cannabinoid-biomedicine-research-programme-launched

Cannabinoids in the management of difficult to treat pain. https://www.ncbi.nlm.nih.gov/pmc/articles/PMC2503660/