How to make your own CBD oil infused butter at home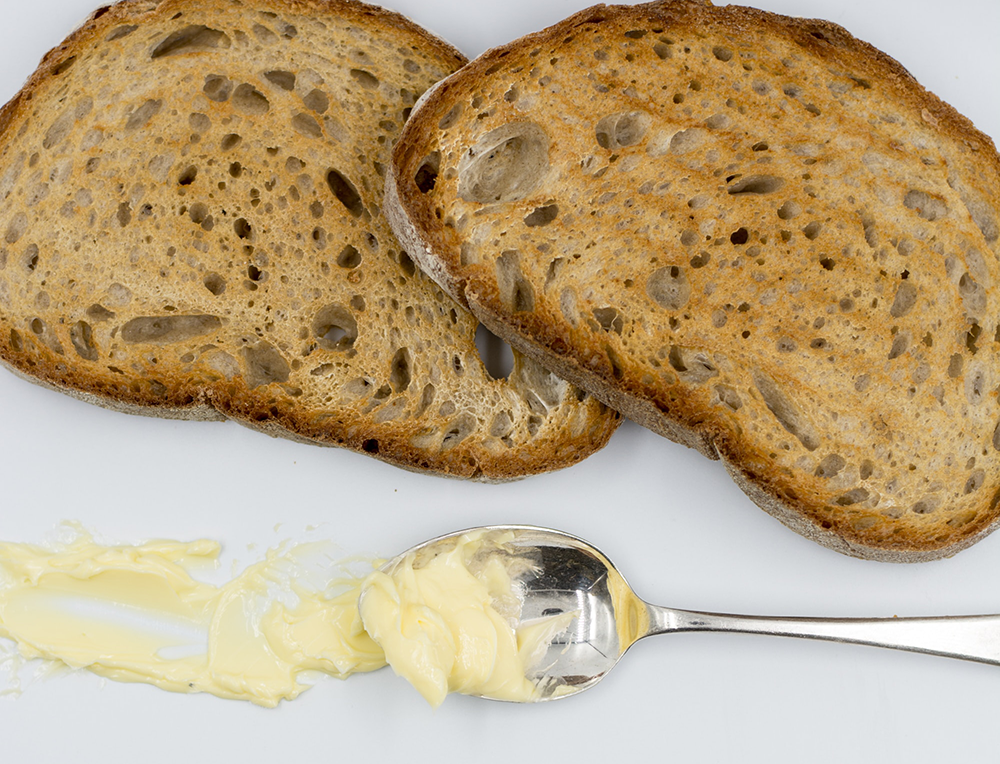 Are you looking for an easy way to get your CBD? We think you'll love this easy recipe to make your own CBD infused butter.
One of the most under-appreciated benefits of CBD products is the versatility they offer. We love how easy it is to fit your daily dose of CBD into your life. 
You know what else is versatile...? Butter. We love it on toast, in our sandwiches and it makes everything you cook taste amazing.
It's arguably pretty easy to make short-term changes to your health, like taking CBD but if you're just getting started with CBD it can be difficult to make it stick and become a habit, even if we know it does us good.
So here's a top trick that will help you stay on track with your new habits... choose to connect your desired change to an existing habit. Behavioural science tells us this works, so why not give it a try?
Make your own CBD oil infused butter so that every time you reach for that golden spread you are also getting a potent does of CBD.
Piggybacking your CBD intake to an already ingrained daily habit such as eating your morning toast will make it much more likely to stick and become a habit, allowing you to benefit from the natural wellness properties of CBD oil while enjoying your favorite foods or beverages.
What is CBD Oil Infused Butter?
CBD oil infused butter, also often referred to as CBD butter, is traditional unsalted dairy-based butter that has been infused with CBD oil, giving it extra wellness properties.
CBD oil is a botanical extract made from high-CBD, low-THC industrial hemp plants. This nutritious CBD oil is naturally abundant in cannabidiol (CBD) a non-psychoactive cannabinoid that interacts with our naturally occurring systems to encourage balance and wellness.
Cannabinoids like CBD are not naturally soluble in water, but they are soluble in certain carrier oils. The fat in the dairy-based butter acts as a carrier for CBD and other cannabinoids and compounds in hemp oil so that once they're ingested they can be delivered to the bloodstream and interact with the body's systems.
CBD butter can be used in any way that traditional butter is used, whether it's as a simple spread for bread or toast, or as a traditional butter substitute in baking recipes.
Which CBD oil should I use?
Make sure you use a good quality full-spectrum CBD oil as this will contain the full benefits of the botanical extract. In full-spectrum oils the THC is removed but all other phytonutrients are left intact, including the plant's terpenes (essential oils), flavonoids and more than 80 different cannabinoids.
This means you are getting the full benefits including the entourage effect, when all the different compounds work in harmony to create a feeling of balance and wellbeing.
The endocannabinoid system is a signaling network that keeps many of the body's functions in balance. By interacting with cannabinoid receptors, CBD supports the endocannabinoid system and its effort to keep your body and its many functions in homeostasis.
Benefits of CBD Oil infused butter
CBD oil infused butter contains all the aforementioned benefits of CBD oils. Additionally it is such a great thing to have around for a number of reasons:
easy to incorporate into your daily life by 'piggybacking' onto existing easting habits
cost-effect and cheap to make
easy for the body to metabolise
you can bake a number of recipes using CBD butter (

Just remember not to use recipes that bake at higher than 180 degrees Celcius (350 Fahrenheit) as the CBD will cook-off).
How to Make CBD Oil Butter: Step-By Step
Before getting started, it's important that you know how much CBD you'd like to infuse into your butter. Do the math ahead of time so that you know how much CBD you'll be getting on a per-serving basis.
For example, the recipe below calls for 2 cups (16 tablespoons) unsalted butter and 10 grams pure CBD hemp oil. If the 10 grams of CBD oil you use contains 2400 mg CBD, you know that each tablespoon of CBD butter will have 150 mg CBD.
CBD oil infused butter recipe
Ingredients:
2 cups of your favourite unsalted butter
10 grams pure full spectrum CBD oil
4 cups water
A saucepan large enough to hold both the butter and the water
An airtight container for your CBD butter
What you need to do:
Put your butter and your water into the saucepan.
Add the CBD oil into the mixture.

Cook over low heat. Continue cooking on low for 3-4 hours, stirring occasionally. (NOTE: you want to keep the heat low so that the CBD doesn't cook-off.)

Once all the water has boiled off, the mixture should look dense, remove from the heat and let it cool enough that you can transfer it, but not so much that it has solidified and allow to cool slightly but don't let it set as you need to pour it into your container.
Once the mixture is safe to handle, pour it into an airtight container. Secure the container's lid firmly and place the container of CBD oil butter into the refrigerator for at least 2 hours to let it solidify.

Enjoy on your morning toast and top with avocado, bacon, jam, or whatever else takes your fancy.
Keep your CBD oil butter in an airtight container and store it in the refrigerator. Provided that the CBD butter is kept from exposure to air, it will stay fresh in the fridge for several weeks.
What else can you do with CBD oil butter
Now that you've made your CBD oil butter, you're ready to make your own CBD edibles. CBD butter can be easily incorporated into any recipe that calls for traditional butter. Use it to top waffles or crumpets in the morning or baked potato at dinner. Stir it into your morning bulletproof coffee or melt it and drizzle it over a bowl of popcorn - get creative with it!
Get What You Need to Make CBD Butter
Get the pure full-spectrum CBD oil you need to make your own CBD infused butter through the Revivo Online Store or call 0330 1331 899.