How CBD Oil Can Help People Suffering From Gout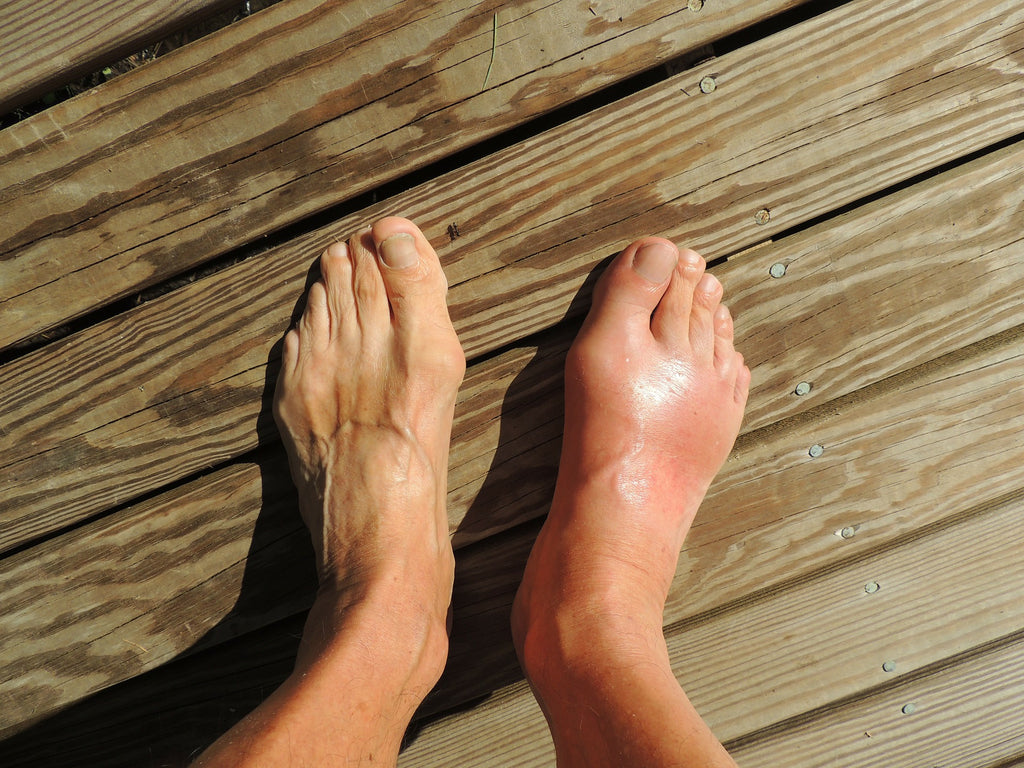 Gout is an inflammation of the joints causing intense, debilitating pain. It arises when urate crystals made from the uric acid in your blood accumulate in the blood vessels. It can potentially affect any joint but typically it happens in your extremities, like in your ankle or foot. Even if a gout attack has subsided, sufferers may experience lingering pain in the site for a few days to a few weeks after.
While some over-the-counter pain relievers can offer temporary relief for its symptoms, some long-time sufferers develop a resistance to them or decide to stop taking them due to some side effects.
Taking pain medication over prolonged periods, aside from losing effectivity, has shown to have adverse effects. Using Non-Steroidal Anti-Inflammatory Drugs (NSAIDs), for example, is generally safe, however, there are risks involved when ingesting them frequently to treat chronic pain. Taking large doses of NSAIDs can cause nausea, stomach pain, and ulcers.
Treating gout is possible by making sure to drink plenty of fluids, and limiting consumption of alcohol and red meat. Unfortunately, some people are prone to developing gout and tend to experience more frequent attacks than others. If you are obese or eat a diet rich in meats and seafood, or you have a family history of gout, you are at risk for developing gout. It also is common in people who are excessive drinkers of alcoholic beverages, particularly beer.
CBD oil and how it can help Gout
One method that some people turn to treat pain from gout is to ingest a tincture of CBD oil. CBD is short for cannabidiol, which is a compound chemical extracted from hemp plants. It has been used for many centuries as a medicinal oil because of its analgesic and anti-inflammatory properties. CBD oil has been used to treat a wide range of chronic pain symptoms like arthritis.
There is early clinical evidence that CBD oil can offer therapeutic relief for patients with chronic pain. What makes it attractive as a pain reliever is that it is derived from naturally occurring chemical compounds, and it has so far shown minimal side effects. It has demonstrated efficacy as well in patients who previously developed a resistance to conventional over-the-counter pain medications.
CBD oil has been researched as a promising treatment for arthritis, providing compelling proof that it is possible to safely treat chronic pain with natural alternatives. Because people experiencing gout symptoms often experience the same swelling and inflammation of the joints that arthritis sufferers do, this makes CBD oil a possible option for gout sufferers.
The purest and quickest way to ingest CBD oil is through a tincture, which is administered under the tongue. The more concentrated the oil, the more potent the effects.
Conclusion
CBD is legal in the United Kingdom and is considered generally safe for consumption. Even the World Health Organization noted that pure CBD has no psychoactive properties and that it does not appear to pose harm or be prone to addictive abuse.
More research is needed to conclusively determine the effectiveness of CBD oil for treating gout. It is worth noting, however, that anecdotal evidence has shown that people who use CBD, whether through vaping e-liquid, or mixing the oil in food, have experienced reduced anxiety, improved heart function, and most importantly, reduced muscle pain. Given these analgesic and anti-inflammatory abilities, it offers a promising, safe, and natural solution for many people afflicted with gout.
Are you looking for the best CBD oil in the UK? We carry a range of oils as well as other CBD products like capsules and E-liquids. Browse our website for more information and to shop for natural and potent tinctures.